Have you ever taken a video for Instagram Stories and then realized with horror that you accidentally left the volume on? Yeah, well that just happened to Khloé Kardashian and the fall-out is extremely 👀.
Yesterday was Khloé's birthday, and naturally the Kardashians threw her a lavish pink-themed party with gorgeous flowers, masks with her face, and—apparently—a mechanical bull. And Khloé shared a bunch of footage from the event on Instagram with fans, including a shot of her cake.
But the folks at The Daily Mail pointed out that Khloé left the volume on, revealing a pretty interesting conversation going on at the table, which ends with someone who they claim sounds like Kylie Jenner saying "I'm pregnant."
Here's the video in question:
Hmmm…IDK, that could be Kylie's voice? But honestly not so sure.
While Kylie *has* talked about wanting another baby with her boyfriend Travis Scott, let's not forget that she managed to successfully hide the fact that she was having Stormi from the world for, oh yeah, nine freakin' months. Seems unlikely she'd even mention she was pregnant at a party considering everyone was posting videos and pictures to social. Girl is no amateur!
Then again, crazier reveals have happened in this family. See: Tristan Thompson and Jordyn Woods. Also see: Tristan Thompson in general.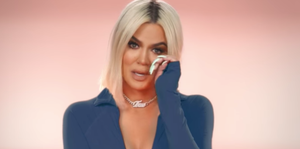 Source: Read Full Article