Hitch was one of Will Smith's most popular movies. Smith played the title character, a dating coach who taught men how to be romantic. It may not have been just an act. In his new autobiography, Will, Smith tells stories of his own love life. They include some Hitch-worthy displays, although in real life they didn't have a Hollywood ending. 
Will Smith wanted his ex-girlfriend back
Smith writes about his high school sweetheart, Melanie Parker. At one point Parker cheated on him, breaking his heart. Still, he wanted to win her back so he came up with a plan. Hitch would admire the effort but would probably have a better idea.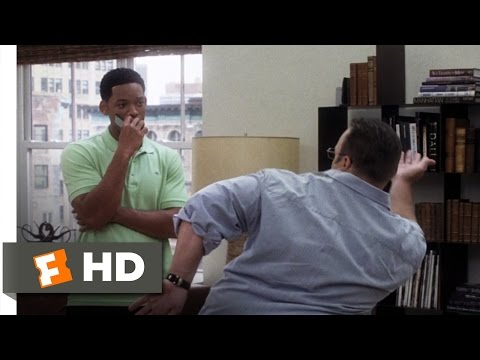 Melanie worked at the Merry-Go-Round in the Gallery, a mall in downtown Philly. I had it all planned: A grand, romantic gesture of forgiveness. I was going to walk in, our eyes would meet, I would forgive her, and she would fall into my arms, gushing tears of gratitude and remorse. Then I would tell her that I wanted to marry her and that no wife of mine has to work in a shit-ass Merry Go-Round. We would give her boss the middle finger, hop into my brand-new Benz 300CE, and I would take her to her new Merion Road mansion, the one with the Jacuzzi in the bedroom, not in the bathroom. 
Will Smith got Melanie Parker back, sort of
Smith knew something was up the moment his security guard, Charlie Mack, dropped him off at the mall. Parker tried to rush him out of the store to meet for lunch in 15 minutes. That's when Smith noticed another man in the store. 
"I charge across the store," he wrote. "He tries to get away — guilty. But there's nowhere to hide in a Merry-Go-Round. I'm all over him. Melanie is screaming. Somehow, Charlie Mack appears, and pulls me off him. The store is a wreck: so are his pretty green eyes. Charlie is dragging me, and I am dragging Melanie. We scramble into the getaway car."
Somehow, the Merry-Go-Round scene did not end up in Hitch. Nevertheless, Smith took Parker back, temporarily.
"That was Melanie's last day at the Merry-Go-Round," he wrote. "She promised to never see that guy again. I took her home to her new mansion on the Main Line."
Their relationship was no rom-com
In Hitch, most of the men Hitch coaches find love. He even finds love for himself. Real life isn't quite that easy. Obviously, Parker is not Smith's wife. She wasn't even his first wife. He married Sheree Zampino before meeting Jada Pinkett Smith. Smith would write more about his relationship with Parker in the book. He also reflected on his own need to be chosen by her.
"My mind at the time still correlated performance with love," he wrote. "The entire basis for my self-esteem was foundationally dependent upon whether my woman was happy. My self-image was inexorably bound up in women's opinion and approval of me. I figured that since I was not receiving the love I so deeply craved, it had to be because of a deficiency in me as the lead character. If I had performed the role of 'boyfriend' better, she wouldn't have cheated."
Source: Read Full Article