Disney Channel has some serious BOPS!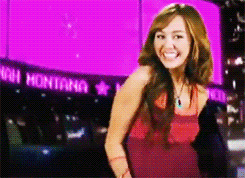 Disney Channel was LEGENDARY in the early 2000s. Most of their original movies and shows had soundtracks filled to the brim with catchy (and super relatable) bops, and although I was deep in the closet during that time of my life, I was able to find solace and channel my inner queen with these nine exceptionally great tracks.
Secure your wigs, girls and gays — we're about to take a trip down memory lane!
9.
"Out of This World" by Cosmic Blush & Proto Zoa — Zenon: Z3
View this video on YouTube
Like many Disney gays, I'm a romantic at heart, and whenever young-me heard this song from the third and final film of the Zenon trilogy, I imagined older-me singing it to my future boyfriend. Fast forward to 2019: I still may not have a boyfriend to sing this to, but the track still slaps!
8.
"Notice Me" by the Zetta Bytes — Pixel Perfect
View this video on YouTube
Before Robyn's "Dancing On My Own" became the default gay-boy-crushing-on-a-straight-boy-who-will-never-love-him-back anthem, 2004's Pixel Perfect blessed us with this super-angsty acoustic jam about unrequited love. This song was like the story of my life, and every time I had a crush on someone and couldn't express it, I played this song in my head.
7.
"Cinderella" by the Cheetah Girls — The Cheetah Girls
View this video on YouTube
When the first film in The Cheetah Girls franchise came out in 2003, I had never seen anything like it. A diverse group of queens singing about being independent and not needing to be saved by some boy?! And in cheetah-print ensembles no less?!? I was LIVING! "Cinderella" still holds up, and if you ever need a pick-me-up to remind yourself that you are your own knight in shining armor, this track is it.
6.
"Potential Breakup Song" by Aly & AJ
View this video on YouTube
Okay, so this may not have been associated with a particular DCOM or show, but back in the day, Disney Channel used to play music videos during commercial breaks, and Aly & AJ ruled! My closeted preteen ass literally had no boyfriend to sing about (considering this song is about a sucky boyfriend, that was probably a good thing), but "Potential Breakup Song" is still catchy AF. And yes, I still know all the words.
5.
"Fabulous" by Ashley Tisdale — High School Musical 2
View this video on YouTube
Is any list of Disney Channel bangers complete without "Fabulous" by Sharpay Evans? Answer: HELL NO. I may not have always been able to express myself on the outside, but inside, I knew I was fab AF, and this opus from criminally underrated pop mastermind, Ashley Tisdale, for 2007's High School Musical 2 helped me realize that.
4.
"I Don't Dance" by Lucas Grabeel & Corbin Bleu — High School Musical 2
View this video on YouTube
And speaking of HSM 2, the Disney gods also blessed us with this track from Lucas Grabeel and Corbin Bleu (my imaginary boyfriends at the time). As if the choreography and sexual tension during this number weren't already super queer, a few scenes later in the movie, Lucas and Corbin swap outfits with each other! My little queer heart was screaming with excitement!
3.
"Best of Both Worlds" by Miley Cyrus — Hannah Montana
View this video on YouTube
Hannah Montana was incredibly relatable to me when it first premiered back in 2006. No, I wasn't a pop star who had to don a blonde wig every night to perform in front of thousands. But the themes of living a double life and having to hide your true identity from the world in "Best of Both Worlds" made this song and show a perfect queer allegory.
2.
"See You Again" by Miley Cyrus — Hannah Montana 2: Meet Miley Cyrus
View this video on YouTube
Besides being poignant for a young gay boy like myself and having more bops than any other Disney Channel title, Hannah Montana also gave us original Miley Cyrus bangers before Bangerz was even a thing. One of those bangers was "See You Again", an incredibly catchy track that helped catapult Miley Cyrus into the pop A-list. After this song came out in 2007, I had no choice but to stan!
1.
"This Is Me" by Demi Lovato & Joe Jonas — Camp Rock
View this video on YouTube
The last song on this list most likely wasn't purposefully queer, but Demi Lovato's "This Is Me" from 2008's Camp Rock became a queer coming-out anthem for many young, closeted Disney gays — myself included! Even though real-life coming-out experiences don't usually involve a dramatic musical number, I had dreams of finally confirming my sexuality to the entire world with this song. TBH, who wouldn't want to sing about being themselves whilst staring deeply into Joe Jonas' eyes?
Source: Read Full Article