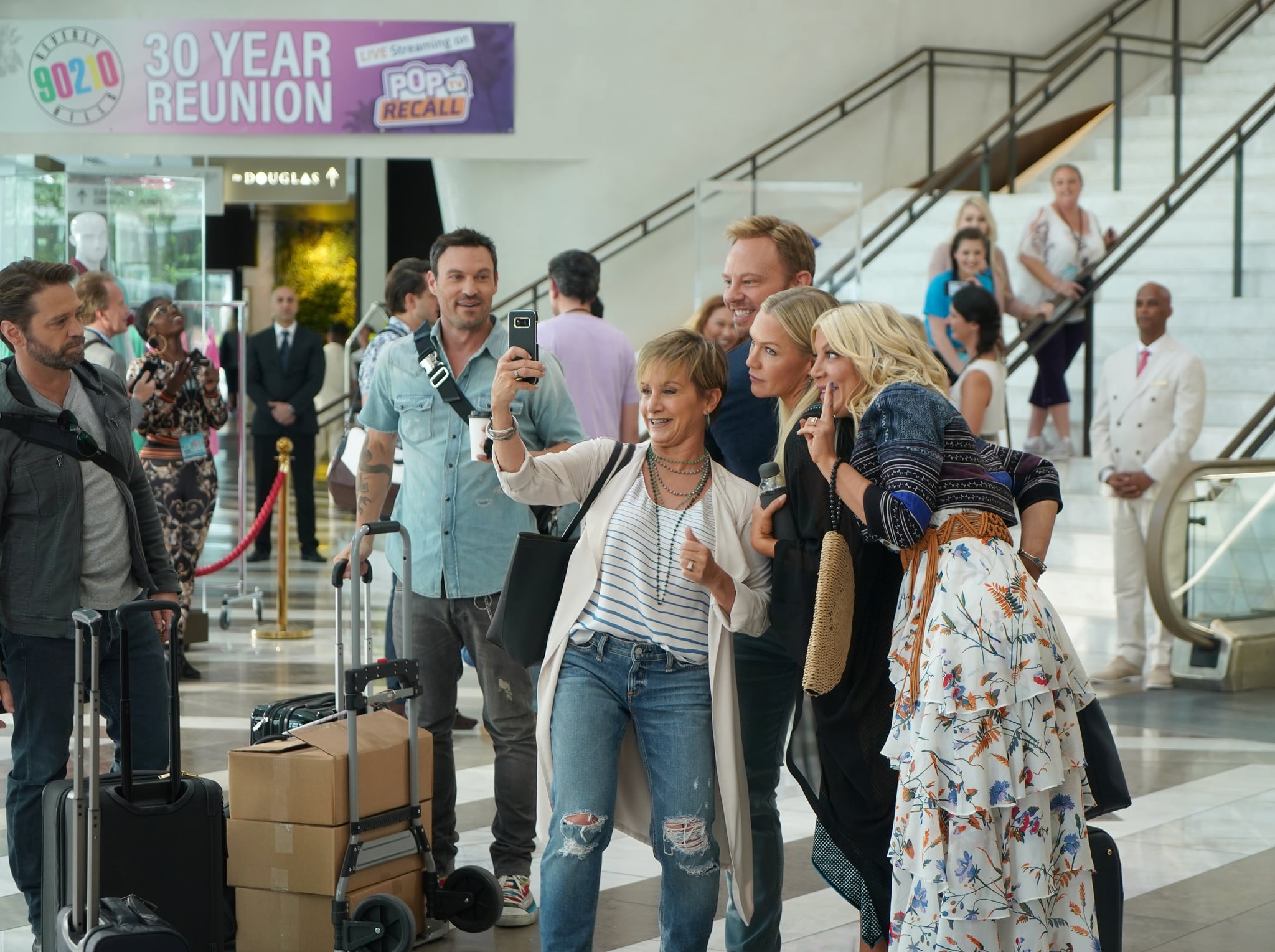 Beverly Hills, 90210 is back! Well — sort of. The classic '90s teen drama is headed back to Fox with an unusual kind of reboot, reuniting much of the original cast for a series that's set to riff off of the original series as well as the actors who starred in it. Here's everything you should know ahead of BH90210's premiere.
What's the Premise of BH90210?
Unlike many of the other major reboots that have been all the rage in recent years, the BH90210 reboot is neither a continuation of the original story (à la Fuller House or Veronica Mars) nor a revamped version of the original premise (à la Chilling Adventures of Sabrina or Roswell, New Mexico). In fact, BH90210 has already had one reboot in the latter mold: 90210, which aired on The CW from 2008 to 2013 and followed a new group of teens in the elite zip code.
Instead, the new BH90210 is dwelling somewhere in a very meta middle ground. The returning cast members are playing themselves: a group of actors who were on a very popular teen drama and are reuniting for a new version. But they're not quite playing themselves — they're playing exaggerated, semi-fictionalized versions of themselves.
Still a little confused? While at Comic-Con, star Ian Ziering revealed some specifics about the show during an interview with Us Weekly.
"We are playing ourselves after meeting at a fan panel. Tori, who, in the TV series, is a mother of six children and is broke, inspires everybody to get the show back on," he explained. "[Tori's character] really needs this. So everyone has their reasons of why they don't want to do it or why it shouldn't be done, but Tori's story is so compelling, it convinces everyone to do it."
Who Is Starring in BH90210?
So who's returning for this very meta revival? Most of the main original cast will be back. Jennie Garth (Kelly), Tori Spelling (Donna), Jason Priestly (Brandon), Brian Austin Green (David), Ian Ziering (Steve), and Gabrielle Carteris (Andrea) are all set to return as these exaggerated, alt-reality versions of themselves. In addition, Spelling shared on Instagram that Denise Richards has joined the cast of the revival.
"Welcome to our @bh90210 family my friend @deniserichards," Spelling added to the caption of a group photo of the cast. Richards had a small guest role in the original but will, presumably, be appearing as a similarly heightened-reality version of herself on the reboot.
Additionally, Shannen Doherty, who was one of the only original cast members not signed on when the show was first announced, has agreed to return. She told Entertainment Tonight that her change of heart came about in order to honor an old friend's memory: Luke Perry, who passed away suddenly earlier this year.
"I wasn't attached [before Perry's death] . . . and it wasn't long after he passed that I finally was like, 'OK, yes,'" she explained. "For me, I felt like it was honoring him and his memory and what he meant to the audience and the fans and to all of us. As his on-set family, I felt like it was an important time for all of us to come together to honor him." The show will deal with Perry's absence on screen as well, according to Doherty.
Perry himself was reportedly not part of the main cast of the reboot prior to his death, due to his full-time filming obligations on Riverdale, but Deadline reported in February that Perry intended to "do as many [episodes] as he can do" and work around scheduling conflicts.
When Does BH90210 Premiere?
BH90210 is set to debut on Wednesday, Aug. 7 on Fox. The mockumentary-style series has a limited order of six episodes; it's currently being billed as a limited series, with no word as to whether Fox might decide to pick it up for further episodes in the future.
Source: Read Full Article