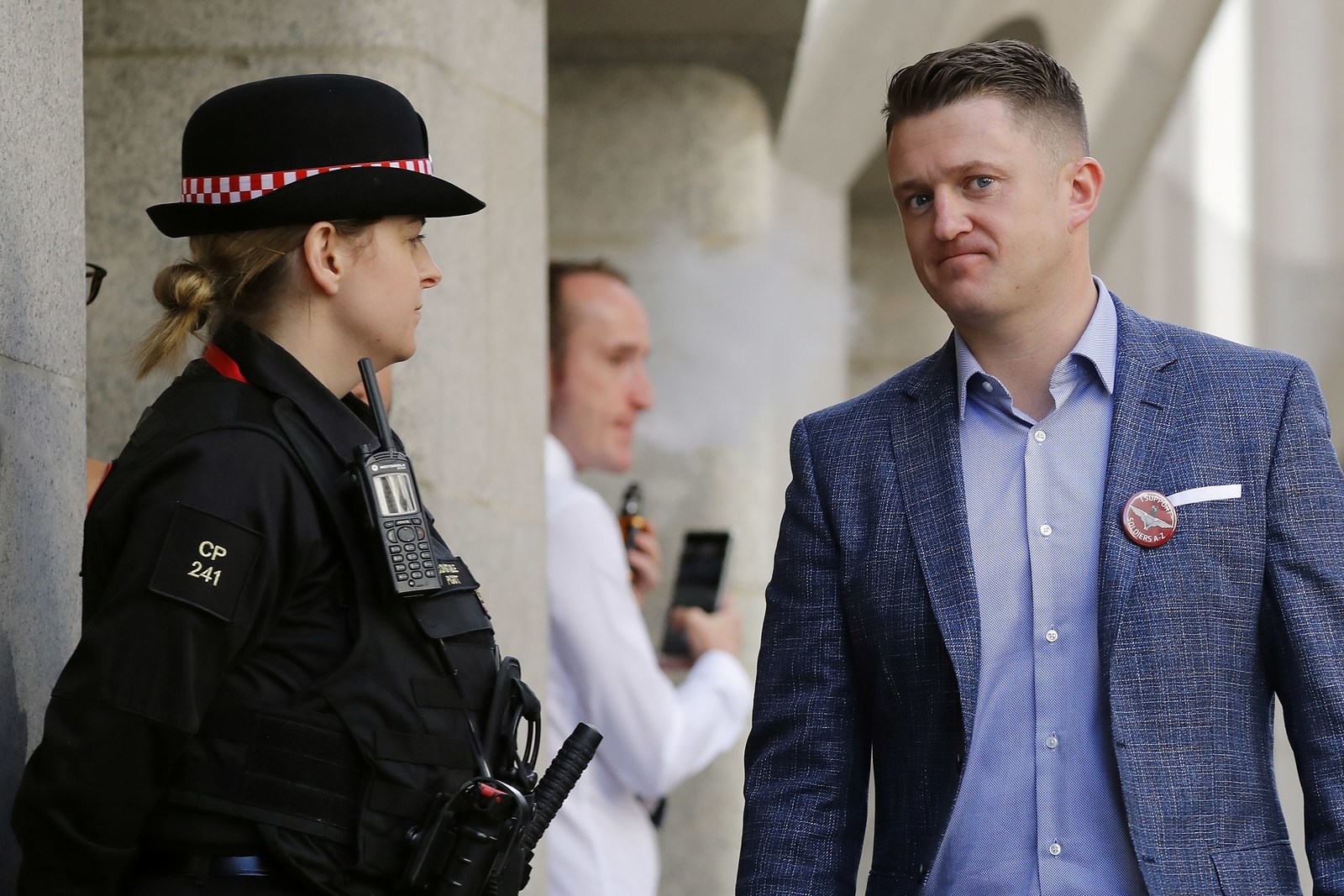 Britain's most prominent far-right activist Tommy Robinson has been sent to jail after being found guilty of contempt of court for live-streaming outside of a child-grooming trial.
Robinson, 36, whose real name is Stephen Yaxley-Lennon, was found to have breached reporting restrictions in a child-grooming gang trial, which High Court judges ruled had encouraged "vigilante action" against the defendants.
On Thursday morning at London's Old Bailey, Robinson was given a nine month sentence. However, he will only serve ten weeks in prison, to reflect prison time he has already served.
It's the second time the anti-Islam activist has been sent to jail over the hour-long Facebook Live broadcast, which had been viewed 250,000 times.
Last year, Robinson was jailed for 13 months, but the Court of Appeal later quashed the conviction. The Attorney General brought fresh contempt proceedings against Robinson this year.
Robinson had been filming the defendants of a child-grooming trial at Leeds Crown Court in May 2018, streaming confrontations with the men direct to his once-popular Facebook page.
Reporting restrictions had been put in place, which stopped journalists from publicising details of the case until three separate trials involving more than two dozen people had been completed. In October last year, the restrictions were lifted and news outlets reported that 20 men had been found guilty of a gang which raped and groomed young girls.
Robinson founded the English Defence League and in recent years has risen to become the UK's most infamous online, far-right activist. He gathered a huge following on Facebook, Twitter and YouTube through provocative videos and stunts targeting the Muslim community.
Since last year, major social media platforms have taken action against Robinson to restrict his reach – Facebook removing his million-strong fan page and Instagram account, Twitter deleting his account and YouTube restricting the reach of his videos.
But Robinson has still been able to rely on the global network of far-right news outlets and YouTube personalities to boost his cause – Canada's far-right Rebel Media has repeatedly featured Robinson in videos and its campaigns, with the network's host Katie Hopkins also pictured at Robinson's sentencing today,
This week ahead of the sentencing, Robinson "co-hosted" Alex Jones' InfoWars programme where he made a direct plea for the US president Donald Trump to give him asylum.
"My name is Tommy Robinson," he said. "Today I am calling on the help of Donald Trump, his administration and the Republican party, to grant me and my family political asylum in the United States of America."
He went on: "I need evacuation out of this country because there are dark forces at work in this nation. The same dark forces that work in this nation that want to repel you as the leader of the free world from even entering this country… the same lies that are told about you, I have to fight these lies."
But in a video filmed ahead of the sentencing and sent to followers, Robinson said he considered being jailed a "win": "I genuinely believe that the best thing they can do for our cause is send me to jail."
Earlier this year, Robinson was one of several UK far-right personalities to run in the European elections. He came in eighth place in the north west of England, failing to get enough votes to even get back his financial deposit to run in the election.
More on this
Adverts For Islamic Relief Appeared On Tommy Robinson's News Website

Mark Di Stefano · May 17, 2019

There's A New Tommy Robinson Channel On YouTube That Bypasses Restrictions On His Main Account

Mark Di Stefano · May 16, 2019
Mark Di Stefano is a media and politics correspondent for BuzzFeed News and is based in London.
Contact Mark Di Stefano at [email protected].
Got a confidential tip? Submit it here.
Source: Read Full Article