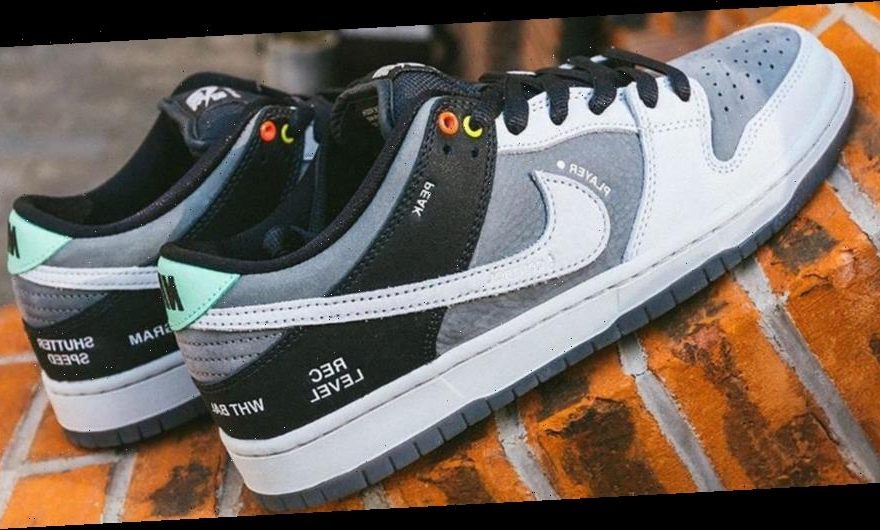 This Nike SB Dunk Low is Inspired by Sony's VX1000 Camcorder
As opposed to pushing out more collaborations, the
The handheld piece has been a part of skate culture since it made its debut in 1995, and has often been deemed the go-to camera for its wide-angled fish-eye lens, durability and user-friendliness when documenting kickflips and 360-pop-shove-its. The details are aplenty for these SB Dunks and can be spotted out via the camcorder-inspired parlance such as "SHUTTER SPEED", "WHT BAL" and "REC LEVEL" and "PEAK" that adorn the rear paneling. Additionally, the eyelets have been colored in with red and yellow which is symbolic of a camera's pause and stop buttons.
Premium tumbled leathers form its upper build, the forefoot and mid-foot regions blending together white overlays and Swooshes with charcoal toe boxes and quarters. A faded black tone then interrupts and baptizes the tongues, laces and back overlay, while a hint of teal backdrops the branded heel embroidery. Inserts also continue the video mantra by printing out "0:00:01" as if recording has commenced.
These will launch via Nike SB's Orange Label skate shops on February 20, 2021 exclusively in Europe and Asia.
Want more Nike-related news? The Nike Free Run Trail is coming back with a pineapple-inspired motif.
Source: Read Full Article