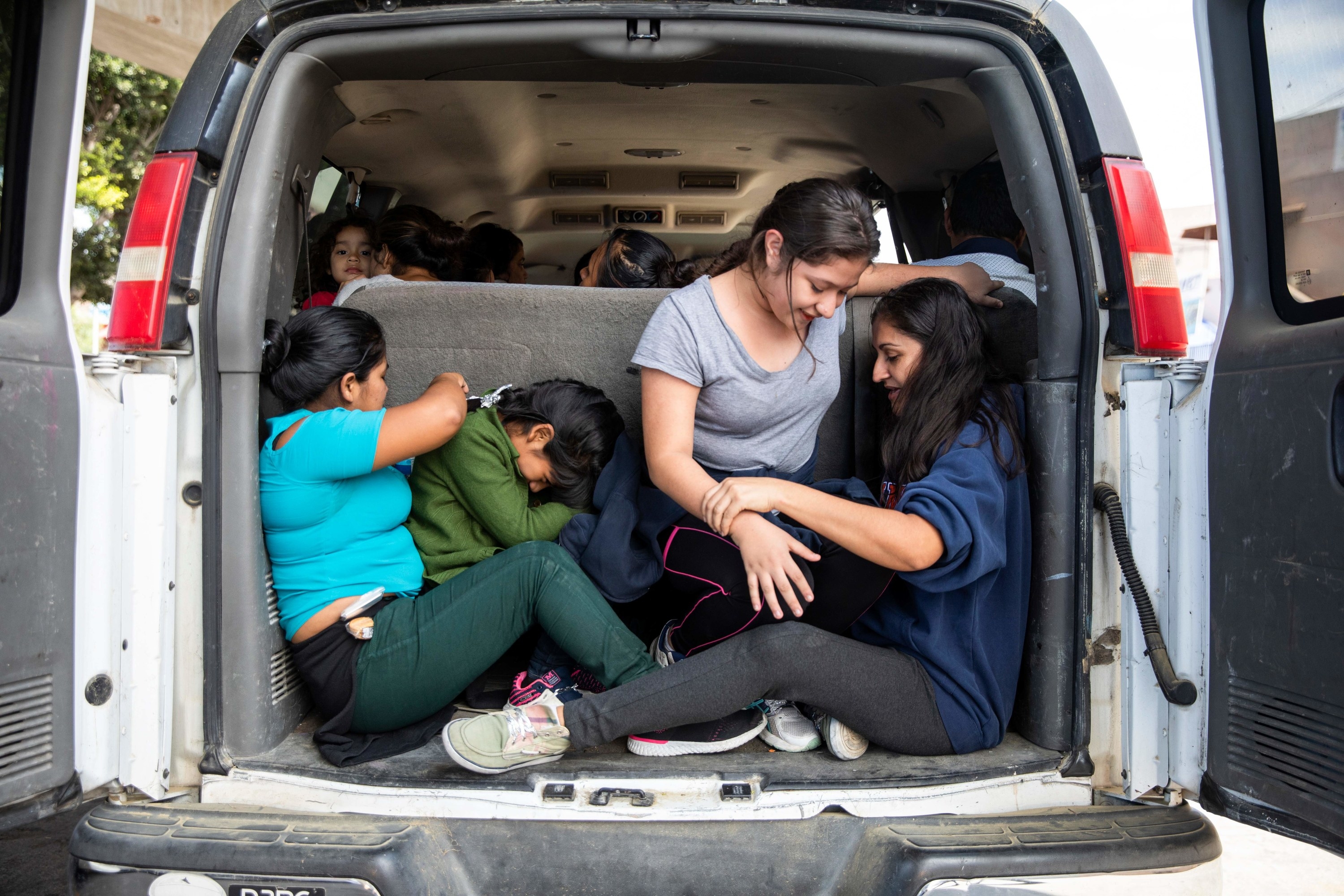 Central American immigrants, returned from the US, wait in a van before being transported to a shelter in Tijuana, Mexico.
The Mexican government has begun pushing back on a controversial Trump administration program forcing asylum-seekers to return to the country after more than 35,000 people were sent back to Mexico, BuzzFeed News has learned.
Under the Trump administration's Migration Protection Protocols policy, asylum-seekers are forced to wait in Mexico as their cases are processed in the US, a system that can take months or years to complete. Advocates have criticized the program as cruel and illegal, and in recent months, US asylum officers have told a federal appeals court the program was "fundamentally contrary to the moral fabric of our nation." The Trump administration has continued implementing the policy despite a legal challenge in courts, and plans to expand the program across the entire border as part of a deal with the Mexican government, which was desperate to stave off tariffs.
It appears in recent weeks, however, Mexican immigration officials have scuttled some of those plans by implementing caps on the number of people that can be returned to the country, limiting the hours when they can be sent back, and refusing to take asylum-seekers on Sundays, according to a Department of Homeland Security briefing document obtained by BuzzFeed News.
The move comes after more than 35,000 people were returned under the program since its inception at the beginning of the year, according to the document. The figure — the highest to date — has not been previously reported.
"These numbers show that DHS is running full speed towards a growing humanitarian catastrophe. With over 35,000 people forced back to Mexico already, the strain on border communities is growing every day and will not improve until DHS ends this dangerous program," said Aaron Reichlin-Melnick, a policy analyst at the American Immigration Council. "DHS has put tens of thousands of people at risk through this unsustainable and indefensible program and taken away everything but the facade of due process."
In El Paso, Texas, Mexican officials are no longer accepting asylum-seekers after 1 p.m. The decision has forced US Customs and Border Protection to detain immigrants who come from Mexico for their US court hearings in its custody overnight in more than half of all cases this month.
In some instances, the Mexican government has outright refused to take those who have been given final deportation orders but can appeal their cases, much to the chagrin of DHS officials.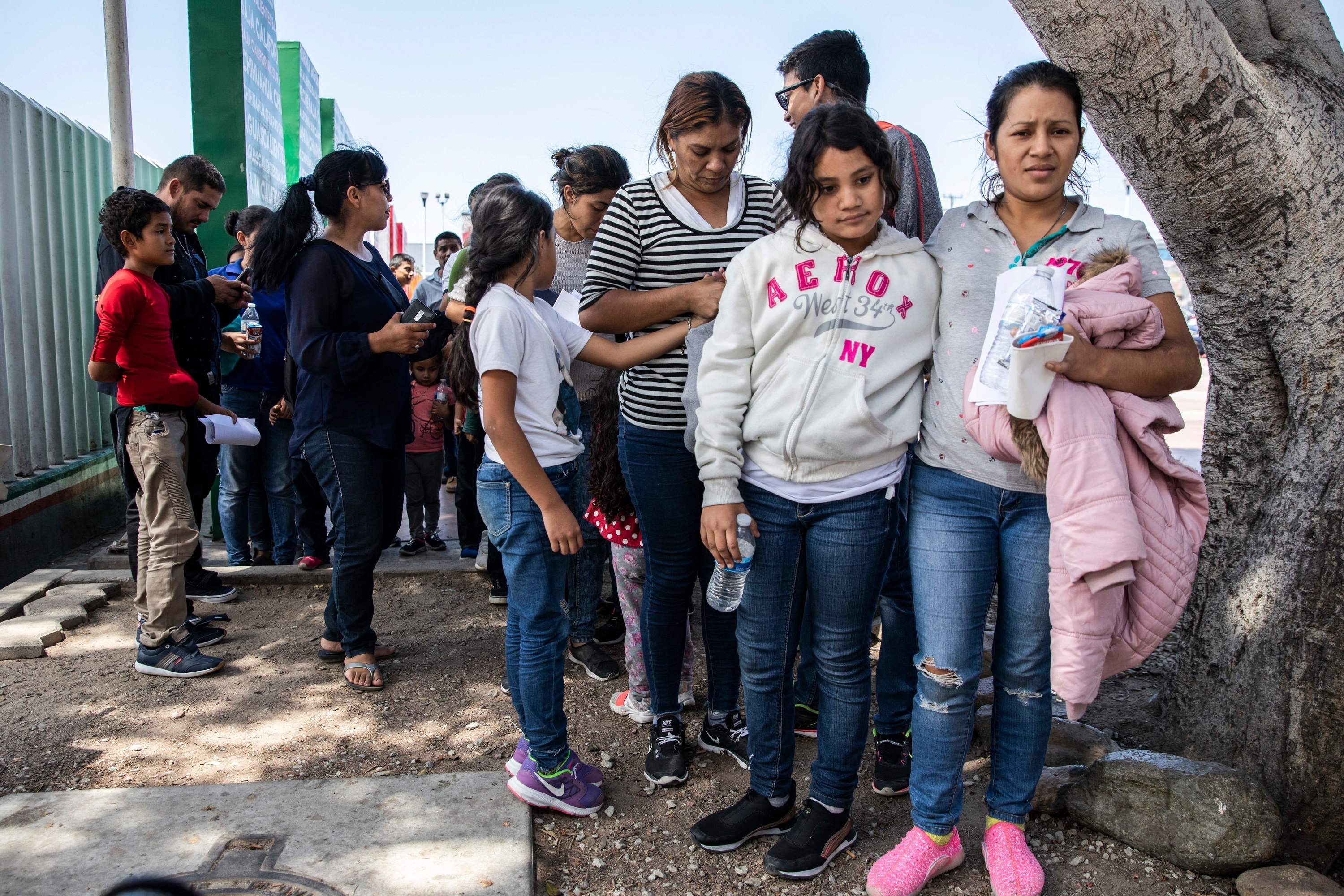 Central American immigrants, part of a group of 87 people deported from the US, wait in line at the El Chaparral border crossing before being transported to a shelter in Tijuana.
"After being quite accommodating for some time, Mexico is finally drawing some lines," said Christopher Wilson, deputy director of the Wilson Center's Mexico Institute. "This takes place as the number of migrants waiting in its border communities continues to rise and as Remain in Mexico is seeming to be more of a permanent policy than a temporary emergency measure."
Wilson added that Mexican officials have long said the country did not have the capacity to hold an unending flow of immigrants coming from Central America.
"Of course they were right, but at the time the need to do something to show the US that Mexico was a partner in managing the crisis outweighed those concerns," he said.
The Mexican government has also begun bussing asylum-seekers returned to the country's northern border to far-off locations such as Monterrey or Tapachula, a move that has puzzled DHS officials, according to the briefing document. The effort, officials said, was poorly coordinated, and while it appeared it was designed to relieve overcrowding at the border, it was still unknown to US officials what Mexico's intentions are.
Tapachula, located near the border with Guatemala, is a more than 30-hour drive to the US, where asylum-seekers are expected to return for their immigration court hearings. Journalists have documented that those transported to Tapachula were unable to afford a bus ticket back to the US border for their hearings.
Wilson said Mexico is likely bussing the asylum-seekers to other parts of the country because shelters near the US border are full and the government is under pressure to take action.
Asylum-seekers returned to Mexico under the Trump administration have faced consequences of remaining there, according to the advocacy group Human Rights First. The group found more than 100 cases of people returned under the program reporting rapes, kidnappings, sexual exploitation, or assault, according to a report released this month.
More on immigration
The Trump Administration Wants To Hold Undocumented Children In Detention Indefinitely

Adolfo Flores · Aug. 21, 2019

The Trump Administration Plans To Deny Work Permits To Asylum-Seekers Who Cross The Border

Hamed Aleaziz · Aug. 20, 2019

Top Immigration Officials Gave Asylum Officers The Wrong Instructions On Trump's New Restrictive Policy

Hamed Aleaziz · Aug. 20, 2019

ICE Is Detaining Thousands Of Immigrants Who Have Passed A Test Showing Fear Of Persecution Or Torture

Hamed Aleaziz · Aug. 15, 2019

A New Trump Policy Could Deny Green Cards To Immigrants Who Use Public Benefits

Hamed Aleaziz · Aug. 12, 2019
Immigration
Mexico
Hamed Aleaziz is a reporter for BuzzFeed News and is based in San Francisco.

Contact Hamed Aleaziz at [email protected].

Got a confidential tip? Submit it here.
Source: Read Full Article