"A lot of trust was broken," Olivia Culpo's younger sister said.
Sophia Culpo is opening up to fans after her recent split from NFL wide receiver Braxton Berrios.
On Wednesday, the 26-year-old influencer addressed her recent breakup in a Q&A session on her Instagram Stories. Culpo first announced she and the football player had broken up last month after he signed a new deal with the Miami Dolphins in a TikTok video with her older sister Aurora.
When a fan asked, "Are you able to talk about your breakup?" she admitted she still hasn't come to terms with the end of her relationship.
Waiting for your permission to load the Instagram Media.
Instagram Media Unavailable
"I wasn't able to talk about this when it first happened," the younger sister of model Olivia Culpo explained. "I still don't really have words. I'm not really one to air out a bunch of dirty details."
She continued, "I haven't addressed this because it's been really hard to come to terms with and process. I'll say that it didn't end well or honestly. A lot of trust was broken. But I have an amazing support system and I appreciate everyone's love & support so, so much. This community never fails to amaze me."
The Instagram model said she understood the speculation about their breakup as their relationship lived publicly on their social media. She also claimed that the emotional trauma she suffered from the split led to "unintentional" weight loss.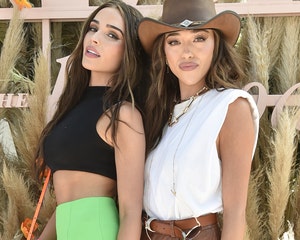 Olivia Culpo Reveals She Saved Her Sister From Falling Refrigerator
"But I do know that I shared my relationship with you guys so it makes sense that there are questions about why this person is no longer in my life," she said. "I know that I've lost a lot of weight. It's not intentional. The betrayal in my last relationship just really took a toll on me, but I have the most amazing support system."
Though she has yet to fully process the split, Culpo thanked her family and friends for the support she's received during this tough time.
"I have the most amazing family and friends and I'm really grateful that I'm even able to pick myself up and move myself to a new place on my own," she continued. "So, there are a lot of things that I am grateful for… I don't wish what I went through on my anybody. I really, really don't and I'm trying my best to just take the high road here."
Sophia said, "I appreciate everyone's love and support, I really do. It means a lot to me. Us girls' girls gotta stick together and one day I will share all the lessons that I've learned."

Source: Read Full Article