Jill Duggar's marriage to Derick Dillard has been called into question by fans since the day they walked down the aisle. Longtime fans of the family's television show just didn't see how the pair make much sense. They also moved their relationship along at warp speed, becoming engaged only four months after entering into a courtship, which led to some viewer concerns. It appears there might have been a reason for the quick marriage and strange pairing; Jim Bob arranged the couple, or, at the very least, that's what a lot of fans think.
Fans think Jim Bob arranged Jill's marriage
Fans have a lot to dislike about Derick Dillard. Not only did Dillard take to Twitter to bully a transgender teen, but he later took aim at TLC, alleging the network used the couple as volunteers and refused to pay medical bills for the birth of their children. He has also publicly suggested that he "settled" for Jill Duggar when he married her.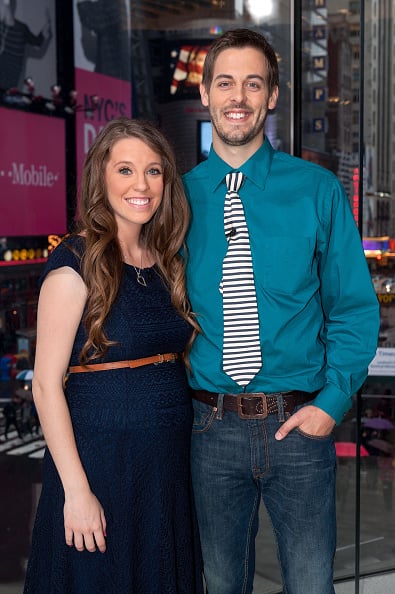 Fans are convinced that Jill's marriage to Dillard wasn't exactly her choice. Reddit users point out that the mother of two didn't look particularly thrilled to be around Dillard during her trip to Nepal to meet him. They also point out that she seemingly told Jim Bob that whatever he decided was probably best, shortly before heading down the aisle.
While the little clues are open to interpretation, they dopoint to a marriage that might not have been completely Jill's decision. Whilemost people would stop short at calling the marriage arranged, it can be arguedthat Jim Bob likely encouraged the courtship, more so than he did for his otherdaughters.
Derick might have had an interest in another Duggar daughter
A Reddit user notes that there has been some speculationabout who Dillard was really interested in pursuing. According to the users,rumors have swirled that Dillard was interested in Jana Duggar, at first, butJim Bob decided they were not a good fit.
Jana has previously noted that she's had several suitors that just weren't the right fit for her. While she's never said Dillard was one of those potential suitors, it's possible. Jana and Dillard don't seem to have so much as a friendship, at the moment, so a love connection was clearly unlikely.
The user goes on to allege that Jim Bob denied the potential pairing with Jana, but suggested Dillard meet Jill. The pair began chatting while Dillard was on a mission trip in Nepal, and the rest is seemingly history.
Jim Bob might not be thrilled with his decision
Jim Bob might have had a heavy hand in Jill's courtship, but it seems like he's pretty unhappy about the relationship now. According to In Touch, there have been rumors of a rift between Dillard and his former prayer partner, turned father-in-law. Apparently, Jim Bob isn't thrilled with Dillard getting his little family fired from Counting On, nor is he keen on the idea of Dillard bringing more hatred upon the family.
After all, they have weathered not one, but two scandals from their own son. They aren't about to deal with another from a non-blood relative. There are also rumors that the family has taken issue with Dillard's decision to forgo a real job in favor of law school. As it stands, the father of two spends all his time at school, leaving Jill to figure out the family finances by way of an influencer career.
Source: Read Full Article