For fans of Grey's Anatomy, the medical drama has never been better. With the sixteenth season slated to premiere in late September, fans are eager for the latest dish on their favorite doctors.
Still, the long-running show has attracted it's fair share of criticism, especially during the fifteenth season. Meredith Grey, played by Ellen Pompeo, embarked on a romance with a much-younger coworker named Andrew DeLuca. While there were some fans who loved the fact that Dr. Grey found love again, the affair has had many detractors.
The negativity toward their pairing recently caused Pompeo to speak out, providing some clarity on why Grey and DeLuca make such a great couple.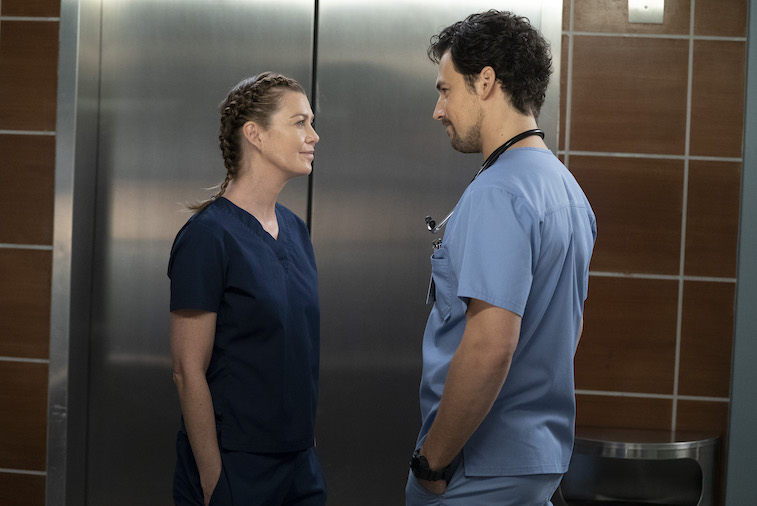 How long has 'Grey's Anatomy' been on TV?
Since 2005, Grey's Anatomy has been a staple of network television. The show centers around a group of doctors and residents at Seattle Grace Hospital and their efforts to maintain a healthy personal life while excelling at their careers.
Over the years, Grey's Anatomy has featured such well-known stars as Eric Dane, Katherine Heigl, Patrick Dempsey, Sandra Oh, Justin Chambers, and Kate Walsh. While most of the original cast have gone on to other shows or creative pursuits, the show's namesake, Meredith Grey, played by Ellen Pompeo, has remained.
Pompeo has made her career off of the success of her portrayal of Meredith Grey and has become well-known to viewers all over the world. She has won multiple awards, including Screen Actor's Guild Awards, several People's Choice Awards, and a Satellite Award. Pompeo is also one of the highest-paid women in entertainment, often credited for reinvigorating the way that strong female characters are portrayed on television.
Meredith Grey's past love interests
The character of Meredith Grey has always had an interesting love life. Viewers have been brought along for the ride as Grey navigates the murky waters of maintaining a healthy relationship while working on her career.
For the majority of the show's run, Grey was involved with Derek Shepherd, played by Patrick Dempsey. Their relationship went through significant ups and downs (including the troubling fact that when they first became romantically involved, Shepherd was married) but they eventually found their peace and happiness.
Sadly, Shepherd died in Season 11, in a traumatic episode that many viewers have never quite recovered from.
Grey has had several other love interests since Shepherd died, including fellow doctor Will Thorpe and Nathan Riggs. Still, none of those got really serious and Grey has mainly functioned as a single mother for the past few seasons of Grey's Anatomy. That is, until Season 15 when Grey's fledging relationship with Andrew DeLuca really started to take off.
However, many viewers still aren't sure how to feel about the Grey/DeLuca pairing.
What does Ellen Pompeo think of Meredith Grey's new relationship?
In what could be a bit of shell-shock that Grey is opening herself up to love again, fans immediately responded negatively to Grey's relationship with DeLuca. The negativity might have made its way back to showrunners, for Ellen Pompeo recently spoke out, defending the new relationship and explaining why it makes sense for Grey to get serious with her new boyfriend.
Pompeo said that Giacomo Gianniotti, who plays DeLuca, is an "incredible actor and a nice presence," and that she's looking forward to building his character more. Gianniotti also spoke out and stated that she doesn't think that Grey's relationship with DeLuca is in any way trying to replace Shepherd's role in Grey's life.
Ellen Pompeo also doesn't believe that the age difference between their characters should matter at all – saying that no one would care if it was a younger woman with an older man.
Source: Read Full Article