Seven months into the current Droughtlander, Outlander fans are desperate for any news about season 6. But when Starz recently shared a promo for their 2021 programming, the time-traveling drama was nowhere to be seen.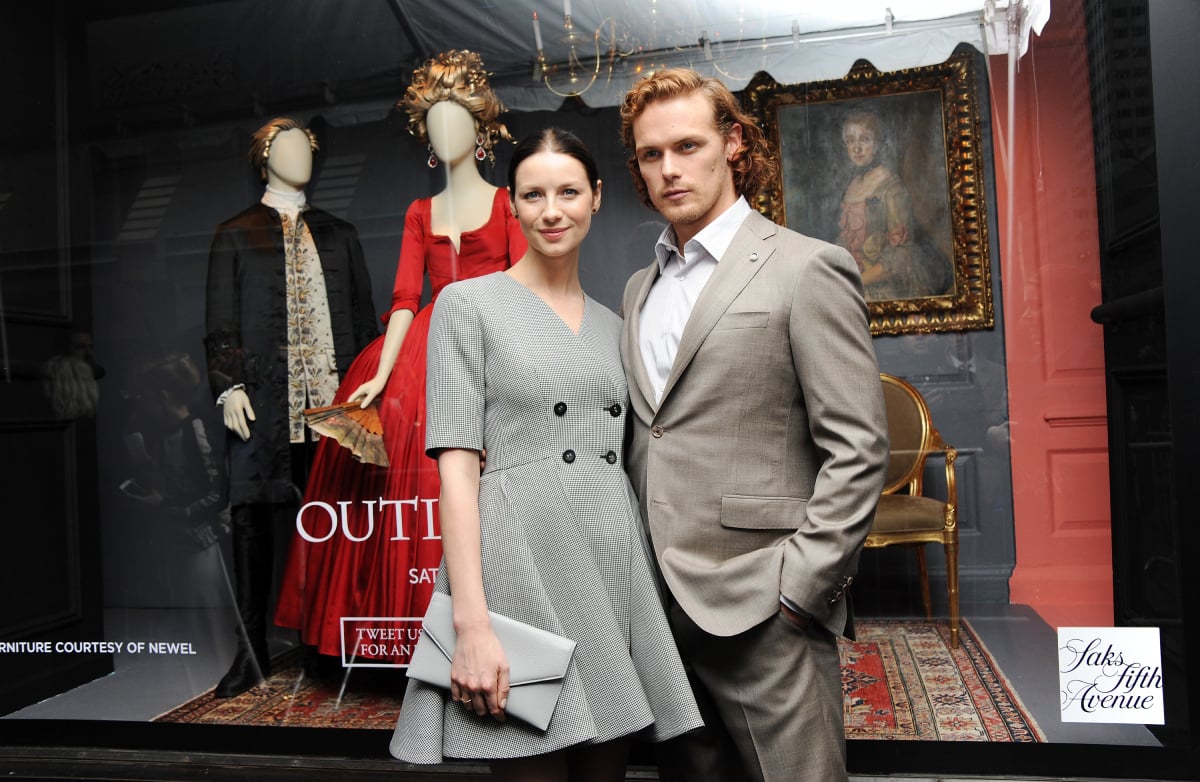 The omission sent fans into a panic about the future of the series, and they want to know what's going on. We promise – and so does star Sam Heughan – that everything will be okay. Here's what we know about season 6 of Outlander.
Starz renewed 'Outlander' for season 6 in 2018
Leaving Outlander out of the 2021 Starz promo had some fans asking if season 6 would happen at all. But there's no need to worry. The network renewed the series for a sixth season way back in 2018.
Just weeks before the Outlander cast and crew were planning to begin production on season 6 in the spring, the pandemic forced them to put things on hold. Since then, many shows have gone back into production with new COVID safety protocols. But, the situation has created a much bigger challenge for Outlander.
Executive producer Maril Davis has described Outlander as the "least COVID-friendly" show ever due to the large number of extras and the steamy scenes between stars Heughan and Caitriona Balfe.
Because of this, they've had to get creative and adapt to the current production environment. It's a big job, and it takes time. As Hollywood Life notes, Heughan gave an update about the delay in November during an appearance on the UK daytime series This Morning.
"We were supposed to start shooting by May. But we are gearing up. We've had fittings, we've got scripts, we are getting there. It's just such an epic show it's taking awhile to get there, but we will be back for season 6," Heughan promised.
Sam Heughan confirms that filming will begin soon
According to Claire and Jamie, the months of uncertainty about season 6 finally ended when Heughan recently appeared on GMA3. During that interview, the Outlander star gave even more details about the status of season 6.
For the first time, Heughan said "we're gonna start shooting early next year." The 40-year-old added, "We're all excited to go back to work. We're all ready for it."
As for those special production challenges Outlander is facing during the pandemic, Heughan says they are "getting back to normal" and "finding ways around" those problems.
During his extra-long break from Outlander, Heughan has been working on some other big projects. He and his co-star Graham McTavish wrote and released the best-selling book Clanlands. The companion series Men In Kilts will debut on Starz in 2021. Heughan's also been in London shooting a new movie with Priyanka Chopra titled Text For You.
Why did Starz ignore 'Outlander' season 6?
Thanks to Heughan, we know that Outlander season 6 is for sure happening, and production will begin very soon. But if that's the case, why did Starz leave the show out of the recent promo?
As CarterMatt notes, the most likely explanation is that they had nothing to show fans. There has been zero new footage shot, and there's no official premiere date yet for season 6. There's still a lot of questions about the upcoming season, and Starz probably doesn't want to make any promises they can't keep.
Once they know for sure that episodes of season 6 are in the can and they feel comfortable setting a premiere date, chances are Starz will hype it up like crazy.
If they do start filming in early 2021 like Heughan promised, it's very possible that fans could see the premiere of season 6 in late summer or early fall. Fans will just have to be patient.
Outlander seasons 1 through 5 are available for streaming on Amazon Prime Video. On Christmas Day, Starz will be airing a season 5 Outlander marathon.
Source: Read Full Article