Few decades are as distinct and influential in pop culture as the 1980s. In 1981, music changed forever with the premiere of MTV. The channel provided a platform for more than just music, eventually introducing the Video Music Awards and original programming. But the videos continued to make news, like Madonna's controversial debut of her "Like a Prayer" video, History recounted. The decade also included the grand introduction of Apple's personal computer.
In movies, there was the rise of the action hero. Big men like Arnold Schwarzenegger and Sylvester Stallone dominated the big screen, inspiring future action movie stars. But viewers also loved coming-of-age classics. And no director did more for the genre than John Hughes, with films like "The Breakfast Club," "Sixteen Candles," and "Ferris Bueller's Day Off." These movies also introduced the world to young and famous actors, several of who became known as the "Brat Pack." Their influence was so popular that it even created a fashion trend.
All forms of entertainment had their own stars, both young and old. Some peaked in the '80s and dwindled away from the spotlight. Some went on to become the biggest stars in the world almost 40 years later. And many fell somewhere in between. Hop in the time machine to see what your favorite stars of the '80s look like today.
Bruce Willis mastered all genres of film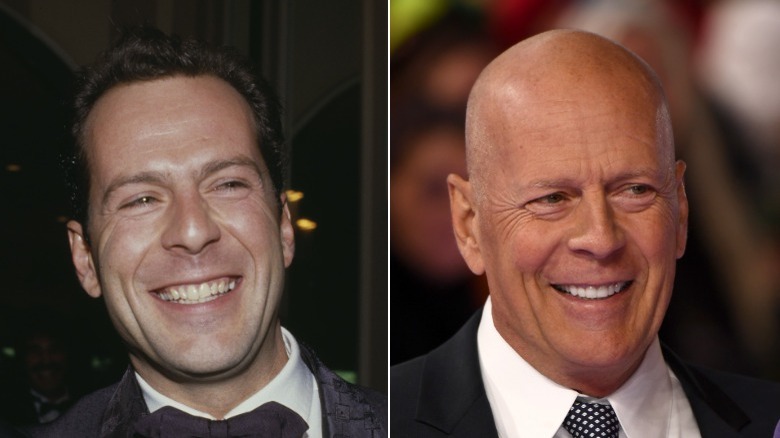 Bruce Willis first became popular on the TV series "Moonlighting." He and his co-star Cybill Shepherd stayed with the show for its five-season run from 1985 to 1989. And Willis also found love in the decade and dated fellow actor Demi Moore, meeting her at the film premiere of "Stakeout" in 1987, and marrying her later that same year (via ET).
The next year, Willis became a megastar with his lead role in the action film "Die Hard." The movie was a hit and remains a nearly perfect movie. For example, Rolling Stone ranked the film as the number two best action movie of all time as of 2021. The film launched the "Die Hard" franchise that lasted for decades, with Willis always in the lead. But more than just blockbuster action films, Willis found success later on in other classics like "Pulp Fiction" and "The Sixth Sense," per Rotten Tomatoes.
As of 2021, Willis continued acting, appearing in the film "Midnight in the Switchgrass" starring Megan Fox and Machine Gun Kelly. He turned 66 years old and also celebrated his 12th wedding anniversary with his wife Emma Heming Willis, People reported. And though he and Moore ultimately divorced, the two appear to stay close and spend time together with their three daughters Rumer, Scout, and Tallulah.
Sigourney Weaver played physically intense parts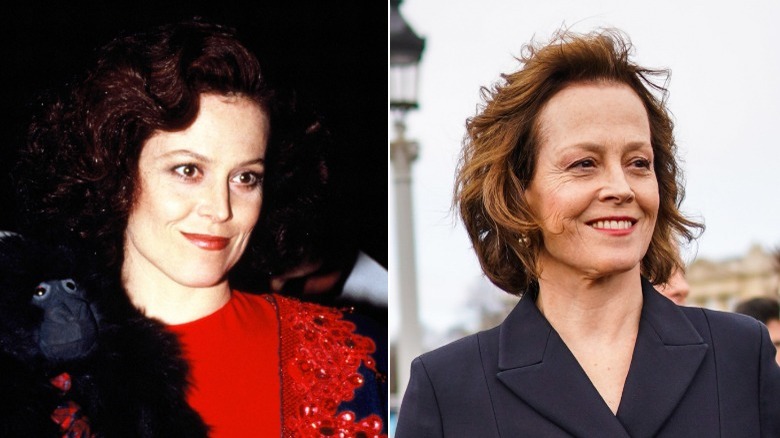 James Cameron's 1977 film "Alien" was driven by its star Sigourney Weaver. After the massive success, Weaver reprised her role in three sequels that spanned into the '90s. The first sequel in 1986, "Aliens," was "the most impressive film of the franchise, which earned Weaver her first best actress nomination," The Guardian reported. In the '80s, Weaver stayed in the sci-fi genre for other roles — though more comedic — with the first and second "Ghostbuster" films. But she also showed her incredible acting skills with "Working Girl" and "Gorillas in the Mist" — two of her finest performances.
Decades later, Cameron once again called up Weaver to help him — this time with the "Avatar" series. After the movie's debut, Weaver signed on to reprise her role in "Avatar 2" and perhaps an unknown amount of sequels afterward (via The New York Times). Filming for "Avatar 2" featured demanding underwater shots, which the actor loved. "My hope is that what I receive from the universe is even more outrageous than anything I can think of," Weaver said. This didn't worry the director either, who knew Weaver could handle the physicality of filming. He remembered while directing "Aliens," Weaver "was running around this complicated set, and there were valves and handles sticking out, and she'd crack into them with her arm or shoulder or hip. I remember her just being black-and-blue after a couple of weeks."
Matthew Broderick became a Broadway star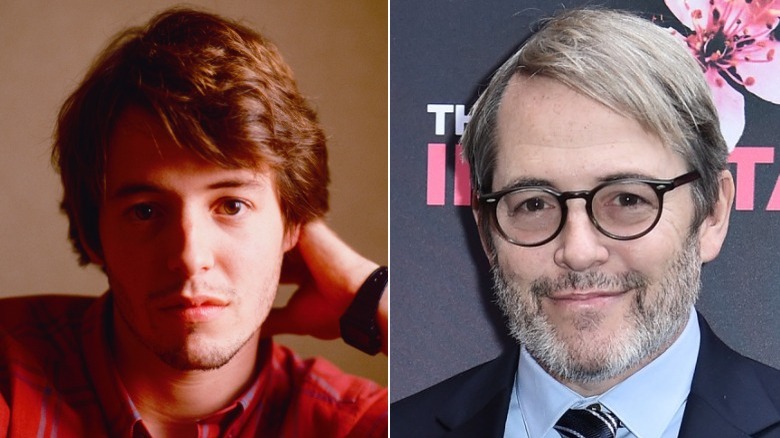 In the early '80s, Matthew Broderick starred in the film "WarGames." But Broderick's biggest movie role came as the lead character in the John Hughes classic "Ferris Bueller's Day Off." In the film, he played a young man skipping school to explore all Chicago has to offer. Even more amazing, Hughes reportedly wrote the entire script for the film in just one week, per Vanity Fair. In an interview for the A.V. Club, Broderick's co-star from the film, Alan Ruck, revealed that other actors were first offered both his and the lead part. He claims the filmmakers "originally offered the Ferris part to Anthony Michael Hall, and they had offered the Cameron part to Emilio Estevez." According to Ruck, Hall turned the part down because he had already been in four movies with Hughes. And allegedly, Estevez already had another offer for the film "Repo Man."
Outside of film, Broderick became a mainstay on Broadway — like his iconic role in the stage adaptation of Mel Brooks' film "The Producers," via PBS. And in the '90s, Broderick first met Sarah Jessica Parker thanks to two of her brothers. The actors then starred together on Broadway in "How to Succeed in Business Without Really Trying." And by 1997, Broderick and Parker were married. Both continued to act and had three children together. In 2021, Broderick signed on for the rom-com "She Came to Me" with Anne Hathaway and Marisa Tomei, Variety reported.
Meryl Streep became a legend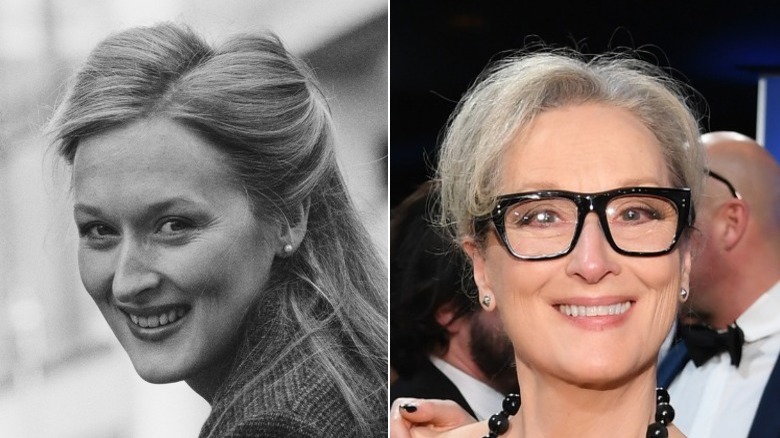 Prior to the '80s, a young Meryl Streep had already been an excellent performer on stage. And while she had a few minor film roles, she snagged her first lead role in "The French Lieutenant's Woman" in 1981, landing Streep an Oscar nomination. But one of her best performances ever came as the star of "Sophie's Choice" one year later, winning the A-lister Best Actress at the Oscars for the role. Vulture ranked her mesmerizing acting as Streep's best performance ever. It was only up from there, as Streep became an acting icon by continuing to play a variety of roles from a journalist in "The Post" to the wickedly-fun fashion editor-in-chief in "The Devil Wears Prada" — and she wasn't afraid to sing and dance in two "Mamma Mia!" films. For her many nominations and respect with peers and critics, Streep sits "in the front row at the Oscars nearly every single year," Vanity Fair reported.
By the end of 2020, she appeared in over 50 films and showed no signs of slowing down. For example, she played the president in the Netflix film "Don't Look Up" starring Leonardo DiCaprio and Jennifer Lawrence, per IMDb.
In her personal life, Streep married sculptor Don Gummer in 1978. The two had three daughters and one son together – Mamie, Grace, Louisa and Henry. And in 2019, Streep became a grandmother. when Mamie had her first child, per Us Weekly.
Judd Nelson reached his peak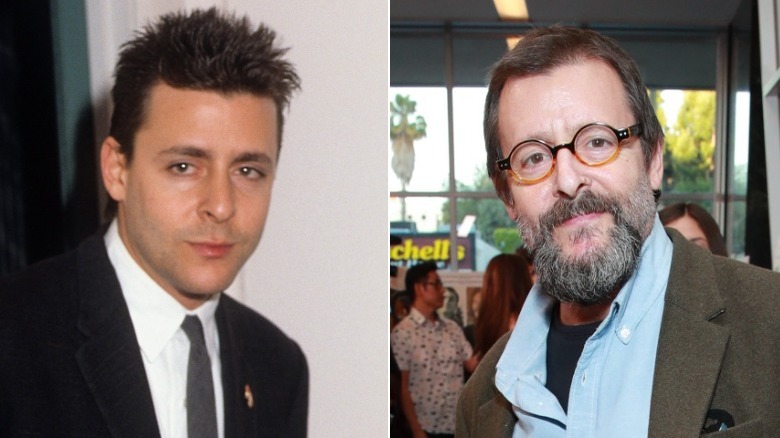 As the bad boy in John Hughes' "The Breakfast Club," Judd Nelson became one of the hottest young actors in the '80s. He also starred in the film "St. Elmo's Fire" alongside other famous young actors of the decade. In an article for New York Magazine in 1985, writer David Blum created the name "Brat Pack" for stars like Nelson, Rob Lowe, and Emilio Estevez. The three young actors appeared on the cover of the magazine and Blum followed the guys around New York City in their prime. And Nelson recognized his time in the spotlight could be fleeting. "You can be 'hot' and be a shamelessly poor actor. It's possible, now it's possible to be at the top for half a second and then disappear," he explained, adding, "It's such a strange thing, to try to build a career on this heat." The article made it appear Nelson enjoyed running around with his actor buddies in their free time. And as far as continuing to work together in film, Nelson said at the time, "I think ensembles should continue forever."
Nelson correctly predicted his fall from peak fame and he settled into minor acting roles, per his IMDb page. He appeared in TV and film, including some popular projects like a recurring role on the music industry drama "Empire."
Janet Jackson dominated the charts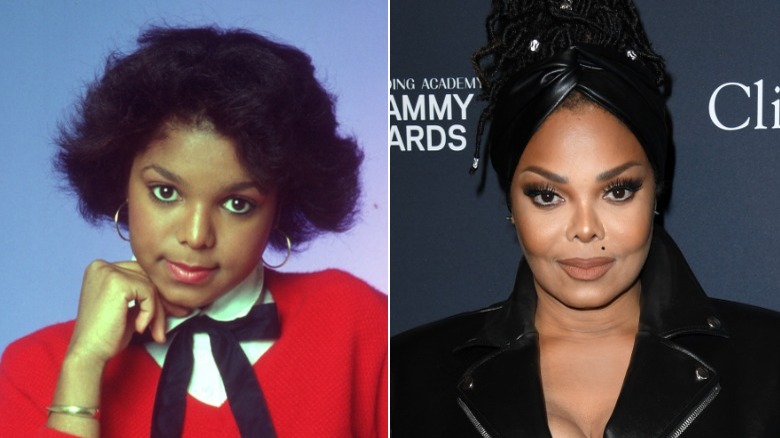 Janet Jackson hadn't originally planned to follow in the footsteps of her older siblings in the music industry. According to Genius, the young woman "had initial desires to be a horse racing jockey or an entertainment lawyer," but her father convinced her to pursue a career in the music industry. Then in 1982, when she was 16 years old, Jackson released her eponymous debut album. She followed the record up with her sophomore album "Dream Street" in 1984. But Jackson's best work-to-date came on her third album "Control." 
This established Jackson as a legitimate pop star in the back half of the decade. And this all set up Jackson to release her masterpiece, "Rhythm Nation 1814" in 1989. In the three years following the release of the album, "all seven of its commercial singles soared into the top five of the Billboard Hot 100 (including five songs that reached No. 1), surpassing a seemingly impossible record set by brother Michael's 'Thriller' (the first album to generate seven Top 10 hits)," The Atlantic reported. And because of this massive success, and cultural influence, the publication called Jackson "the most culturally significant female artist of the 1980s."
Her legacy holds up decades later, even to younger artists. For example, Lizzo called her the "Queen of Pop" in a 2021 Twitter post. And Jackson was still performing at the time, too. The pop icon was scheduled to headline the Cincinnati Music Festival until it was postponed, Cincinnati.com reported.
Emilio Estevez paved his own way to fame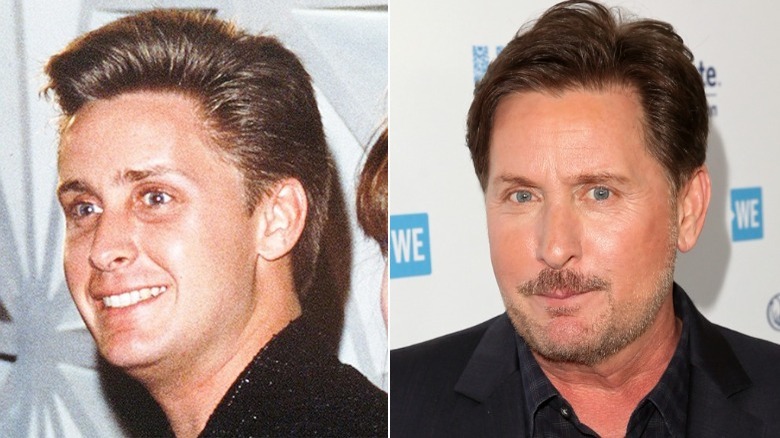 Ramon and Carlos Estevez might not sound as familiar as Emilio Estevez — because Ramon changed his stage name to Martin Sheen and Carlos to Charlie Sheen. Estevez was Martin's first child, followed by brother Charlie. "My decision was met with a lot of resistance at the time," Estevez told The Guardian about keeping his name. "But it was abundantly clear to me that my father had earned his name and I hadn't," Estevez added. The young actor became famous for his roles in "The Breakfast Club" and "St. Elmo's Fire," not to mention for his connection with his fellow actors known as the "Brat Pack." Estevez pointed out that the stars from the "Ocean's" film trilogy worked together more than the "Brat Pack" members. "We just made two movies and somehow it morphed into something else," Estevez said.
In his personal life, Estevez had two children with model Carey Salley and then dated his "St. Elmo's Fire" co-star Demi Moore. In the '90s, Estevez married singer Paula Abdul but the pair divorced after two years. Then, Estevez started to run into financial troubles. "I had a very expensive now-ex-wife and got caught up with bigger is better — I went broke chasing that," he told People. And "to clear his debts Estevez sold his home, autographed photos and cashed in his pension." Luckily, Estevez recovered and started to direct more, in addition to joining "The Mighty Ducks: Game Changers" in 2021, via IMDb.
Demi Moore struggled early with acting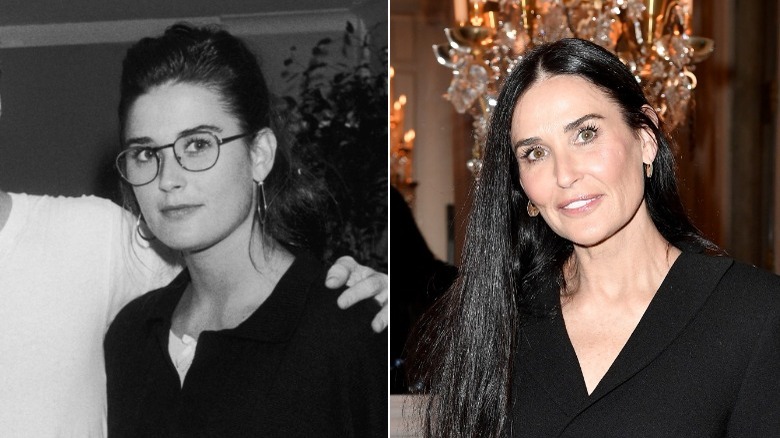 Demi Moore began acting in the '80s and her first big role was as Jackie Templeton on the soap opera "General Hospital," per IMDb. This helped the actor land a lead role in "Blame It on Rio," according to The New York Times. But the star revealed that her early roles in Hollywood led to body image issues. "I wouldn't be loved if I wasn't — if I didn't give of myself. My value was tied into my body," Moore revealed. As a result, the actor reportedly "abused alcohol and cocaine, binge-ate and obsessed over her weight." 
In 1985, Moore became even more famous after appearing in "St. Elmo's Fire." Her role in the film, plus an engagement to fellow actor Emilio Estevez, put Moore into the group known as the "Brat Pack." Though she and Estevez called off the wedding, this led to Moore meeting Bruce Willis and the couple married in 1987. In her memoir "Inside Out," Moore recalled, "Bruce literally swept me off my feet: we met, married, and were pregnant within four months" (via The New York Times).
The '90s were even better for Moore, starring in popular movies like "Ghost" and "A Few Good Men." And showing her star power, she "started earning multimillion-dollar salaries." Moore's career continued as she had three children with Willis, married and divorced Ashton Kutcher, and suffered a seizure while partying with her daughter Rumer. And she still modeled in 2020, appearing in the Savage x Fenty fashion show.
If you or anyone you know is struggling with addiction issues, help is available. Visit the Substance Abuse and Mental Health Services Administration website or contact SAMHSA's National Helpline at 1-800-662-HELP (4357).
Rob Lowe kept his winning smile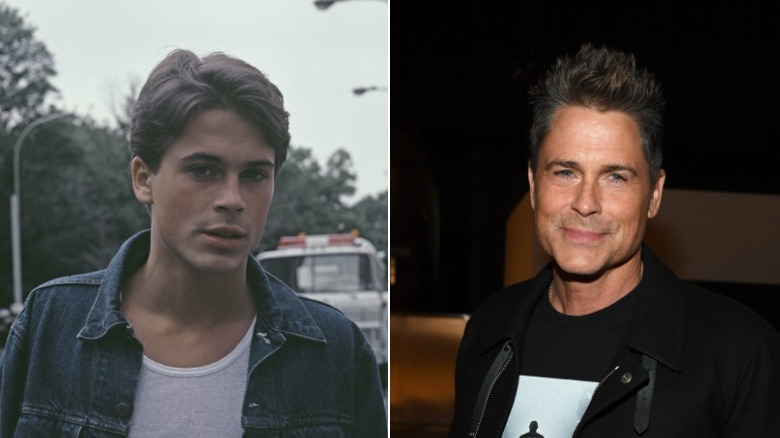 Rob Lowe made his film debut in the 1983 film "The Outsiders," also starring Tom Cruise. Lowe then went on to star in other '80s films including "Class" and "The Hotel New Hampshire." By the time he appeared in "St. Elmo's Fire," Lowe had "the most beautiful face" among the young men in Hollywood at the time, according to New York Magazine. The article also covered his relationship with fellow actors Emilio Estevez and Judd Nelson — nicknamed the "Brat Pack," a reference to the Rat Pack of the 1960s. The author said both packs were "a roving band of famous young stars on the prowl for parties, women, and a good time."
At this time, Lowe dated actor Melissa Gilbert, and the two were engaged but ultimately broke off the relationship. Later in his career, Lowe transitioned more into TV. Two of his biggest roles were in political dramas, "The West Wing" and "Brothers & Sisters." But the actor showed off his funny side too, appearing in the "Austin Powers" trilogy and "Parks and Recreation," per IMDb. 
Throughout the years, Lowe also impressed fans with his seemingly ageless face. Lowe partly credited his youthful look to his skincare routine and moisturizing, he told GQ. And Lowe went on to create his own skincare line called Profile. He also continued to act, and in 2021, he signed on to host the Netflix series "Attack of the Hollywood Clichés!" Vulture reported.
Anthony Michael Hall found himself in controversies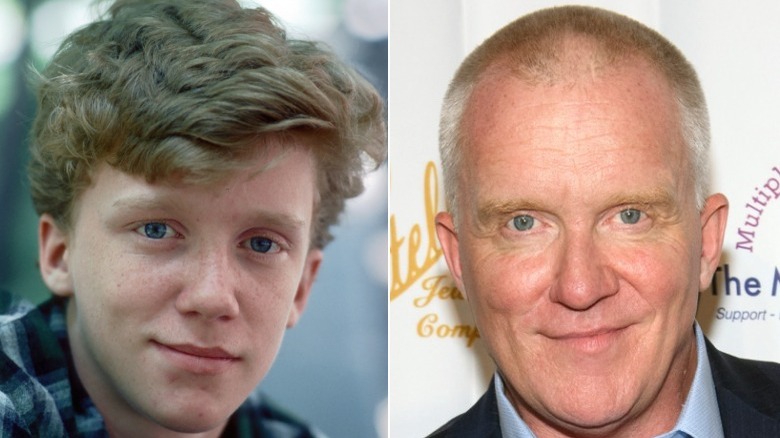 As a teen, Anthony Michael Hall became one of the best-known nerd-types in Hollywood. The actor first linked up with director John Hughes, who was the writer of "National Lampoon's Vacation," via IMDb. Then Hall appeared in Hughes' first three films as a director — "Sixteen Candles," "The Breakfast Club," and "Weird Science." These roles lumped Hall into the "Brat Pack" discussion but also helped Hall land a spot on "Saturday Night Live." The show's producer Lorne Michaels returned after a five-year hiatus and signed Hall to join the cast. Still a teenager, Hall "became the show's youngest cast member," Entertainment Weekly reported. In the book "Live From New York," Hall admitted his one-season run from 1985-1986 was "one of the most forgettable seasons of the show's history." 
Hall continued to act in various roles but also made headlines for sketchy incidents, including a scary moment with a neighbor. Hall faced up to seven years in prison for allegedly shoving his next-door neighbor to the ground and was sentenced to three years of probation in 2017 (via People). Then in 2020, TMZ released footage of Hall in a hotel pool yelling at other guests. Reportedly, Hall "caused a ruckus over feeling disrespected."
Hall stuck with acting and in 2021, he joined the film "The Class." In an interview for WGN News, Hall explained how the film was inspired by "The Breakfast Club."
Sylvester Stallone ruled the box office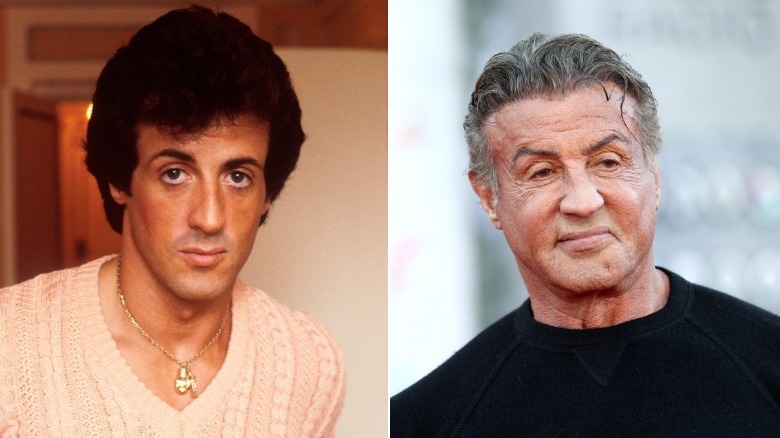 Sylvester Stallone was already a star in the '70s thanks to his performances in the first two "Rocky" films. But the boxing movies were so popular that he continued his role as Rocky Balboa in the '80s in the third and fourth installments of the series, via IMDb. He also started the long-running "Rambo" franchise with the 1982 film "First Blood." Surprisingly, the character was supposed to die in the original script. But Stallone was vindicated after test audiences wanted to see Rambo live on. 
In the rest of the decade, the actor appeared in the second and third "Rambo" films. This was also the start of Stallone becoming an action hero legend. He nodded to his reputation by directing the "Expendables" movie starring other amazing action heroes like Bruce Willis and Arnold Schwarzenegger. And in 2021, Variety reported that Stallone signed on to appear in the fourth movie of the series.
Also in 2021, Stallone was the voice of King Shark in the rebooted version of "The Suicide Squad." As reported by Deadline, when the film went number one at the box office, it meant Stallone had a number one movie in six straight decades. Stallone referenced the article on an Instagram post and captioned, "Thank you for making me feel like I'm on top of the world. It's been a great career thanks to all of you! Keep punching, sly."
Andrew McCarthy changed his career path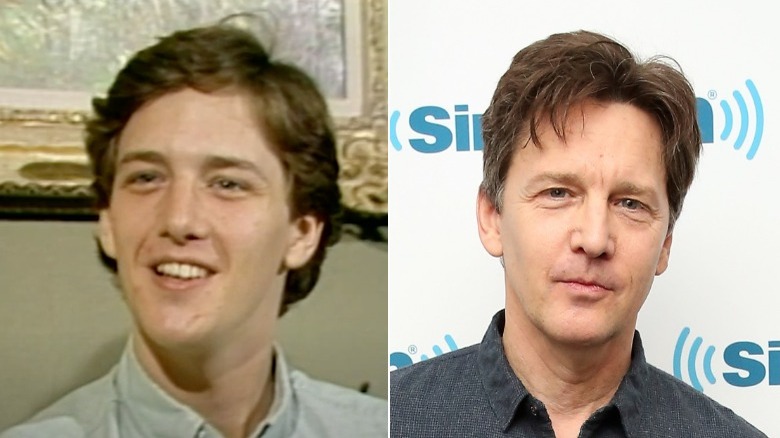 Andrew McCarthy attended New York University to pursue a career in acting. As he explained to the Wall Street Journal, he secured a spot in the school's prestigious drama program. But McCarthy confessed that after two years at the school, "my average slid and I was asked not to come back." According to the actor, "a week later, I auditioned for the film 'Class' and got the part. The movie changed my life." He later joined "St. Elmo's Fire," which McCarthy explained, "elevated me and landed me in what became known as the Brat Pack." The actor appeared next in "Pretty in Pink" alongside Molly Ringwald and finished out the decade in the comedy "Weekend at Bernie's," per IMDb.
After his days affiliated with "Brat Pack," McCarthy went on to become a writer. He wrote "Just Fly Away," a young-adult novel, The New York Times reported. And the former actor also became a travel writer. McCarthy credited the book "Off the Road" with inspiring him to walk 500 miles through Spain. That adventure "began my life in wanderlust — which led to the second career," he told The New York Times. 
In 2021, McCarthy also released his memoir called "Brat." For his personal life, he told Wall Street Journal that "my wife, Dolores, and I, along with our three kids, divide our time between the top two stories of a brownstone in New York's West Village and a home in upstate New York."
Drew Barrymore's wild ride through fame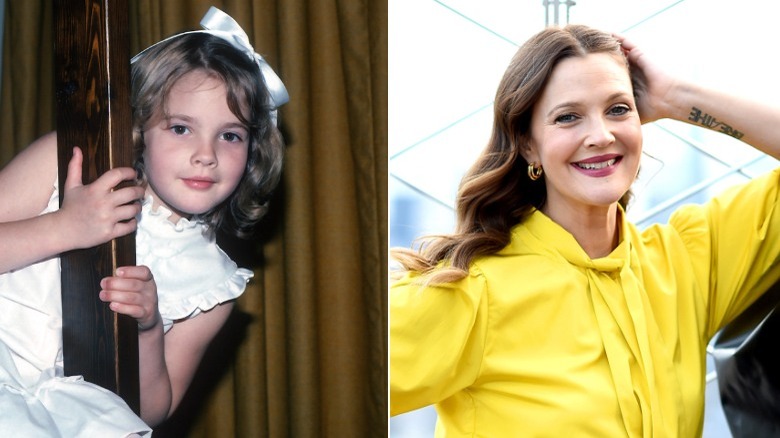 Drew Barrymore came from a long line of actors in her family and according to Biography, she was only 11 months old when she first appeared on screen in a dog food commercial. And she made her big-screen debut at the age of five in the sci-fi horror film "Altered States," The Guardian reported. But it was her role at the age of seven in "E.T. the Extra-Terrestrial" that turned Barrymore into a child star. The film by Steven Spielberg was a smash hit and became one of the highest-grossing films ever, Box Office Mojo estimated. Around that time, the young Barrymore reportedly asked her mother if Spielberg "could be her godfather." The director agreed." And in 1982, Barrymore became the youngest host ever of "Saturday Night Live," History reported. "SNL" posted a video of her monologue as a seven-year-old.
Sadly, all the fame at an early age soon led to personal problems. As detailed in her shocking memoir, Barrymore revealed she "had her first cigarette when she was 9. Within three years, she would drink her first beer, smoke her first bowl and do her first bump of coke," The New York Times recapped. Soon after, Barrymore went to rehab and wrote her memoir all by the time she was 14. But Barrymore recovered and continued a successful career in acting and producing, per her IMDb page. In 2020, she launched her talk show "The Drew Barrymore Show."
If you or anyone you know is struggling with addiction issues, help is available. Visit the Substance Abuse and Mental Health Services Administration website or contact SAMHSA's National Helpline at 1-800-662-HELP (4357).
Arnold Schwarzenegger remained an action hero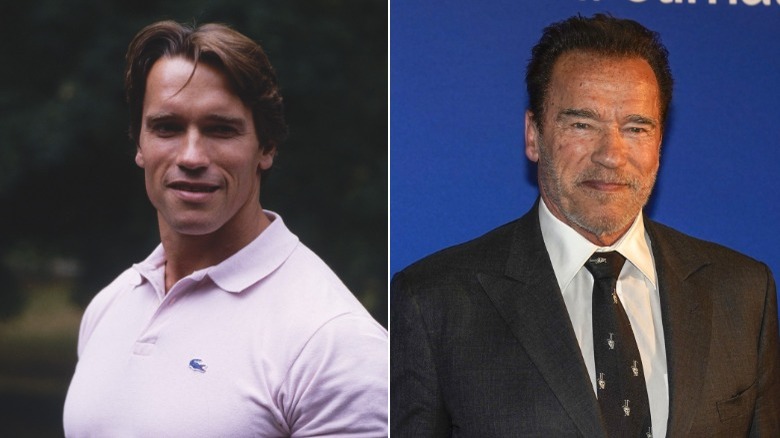 Arnold Schwarzenegger relocated to the U.S. when he was 21 years old, the BBC reported. He became a successful weightlifter but didn't find success in acting until he starred in the 1982 film "Conan the Barbarian." The script perfectly "suited the accented, muscled Austrian" who had to be dubbed over in a previous film. In 1984, Schwarzenegger reprised his role in the sequel "Conan the Destroyer," per IMDb. But the actor's golden moment came that same year when he appeared "as an emotionless killer robot" in "The Terminator." The film was a huge success and launched Schwarzenegger's career as an action movie star. Later in the decade, he starred in the films "Commando" and "Predator." And in 1987, he "married the niece of John F Kennedy, Maria Shriver."
While continuing to act, Schwarzenegger became more interested in politics. And in 2003, he became the governor — "The Governator" — of California. As for why he ran for office, he said it was the next phase of his life after bodybuilding and acting. "As I've grew up, got older, maybe wiser, I think your life is judged not by how much you have taken but by how much you give back," he reportedly said. 
Even after holding office, Schwarzenegger didn't hold back his political opinions. As reported by USA Today, he lost a sponsor for his bodybuilding competition after a 2021 CNN interview where he called "Americans who are opposed to wearing face masks 'schmucks.'"
Sean Penn remained a fixture in entertainment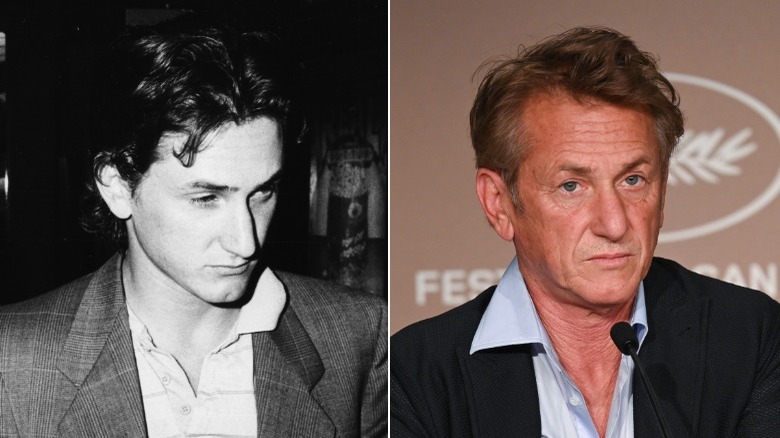 The 1982 film "Fast Times at Ridgemont High" featured a very rad, surfer-type character named Jeff Spicoli. A young Sean Penn played the part in only his second movie ever. In an interview for GQ, Penn revealed that at the time, "I was in my parents' garage. My agent tracked me down at their house and said that there was this movie and that I should get ahold of the book." Penn read the book and felt he could play the California surfer part, drawing inspiration from a boy he grew up with. Penn claimed he bombed the audition for the part. But he said the casting director convinced the rest of the team to give Penn another chance and he ended up securing the role. After the film, Penn earned major roles in films like "Bad Boys" and "The Falcon and the Snowman," per IMDb. In the decade, Penn married Madonna and in 1985, the two starred in the disastrous "Shanghai Surprise."
Penn's career then turned into a mixture of news-worthy moments, like high-profile relationships, including Charlize Theron and Robin Wright, and for his acting performances — winning two Best Actor Oscars for his roles in "Mystic River" and "Milk." Penn also became a political activist while causing controversy along the way. He continued to act and also directed the 2021 movie "Flag Day." Plus, the film featured his daughter Dylan, Yahoo! reported.
Kevin Bacon expanded his skill set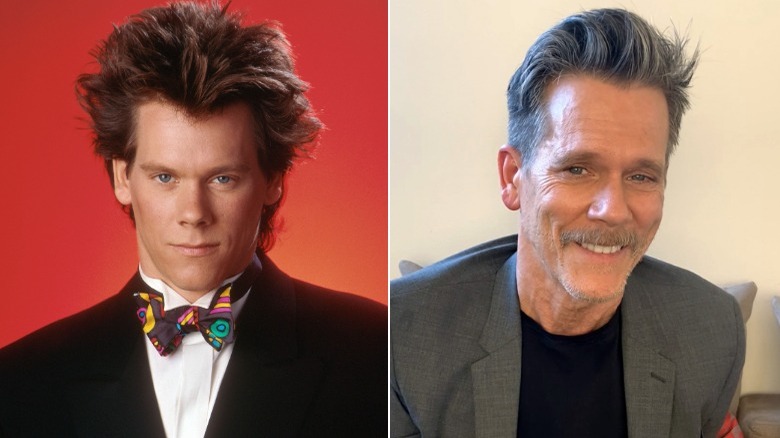 In 1980, Bacon played a camp counselor in the horror film "Friday the 13th." And as summarized by Us Weekly, "the movie went on to become a box office success, spawning nearly a dozen sequels throughout the next two decades." But Bacon's biggest role of his career came as a teen who just wanted to dance in "Footloose."
On an episode of Variety's "Actors on Actors," Bacon explained to John Lithgow how he was actually in his early twenties while filming "Footloose." So, to better understand the mindset of a teen, he went undercover in a real high school for a day. "The only people that knew that I was an actor was the principal and maybe the guidance counselors. The teachers didn't know, the students didn't know," he revealed. Bacon claimed that he came up with the idea and dressed up like the character from the film. According to the actor, the real students made fun of him for his hair and clothing. "It was terrifying," Bacon admitted.
Later in the '80s, Bacon linked up with actor Kyra Sedgwick and the two married in 1988. The couple lasted for decades, even surviving quarantine together. Bacon continued to act and also became a musician, joining his siblings to form The Bacon Brothers. In the group, Bacon plays some guitar and is the lead singer. And he is credited as the writer and co-director for the band's "Play!" music video.
Molly Ringwald moved abroad to avoid the pressure of fame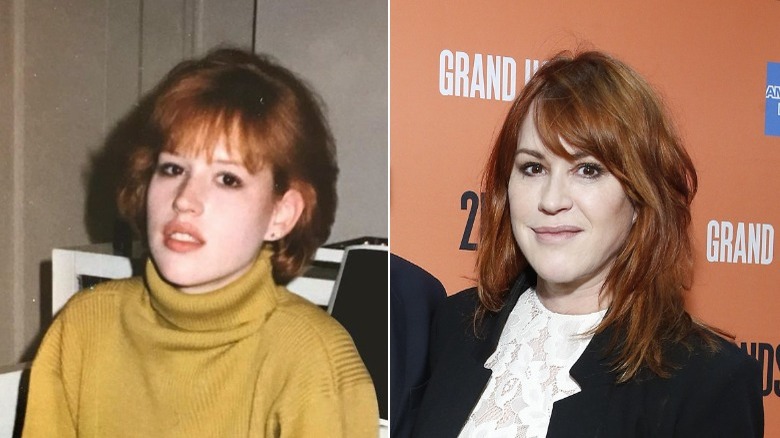 The most iconic female teen actor of the 1980s, Molly Ringwald shined in the ensemble cast of "The Breakfast Club." But she also proved to be a leading woman with her roles in "Sixteen Candles" and "Pretty in Pink." In a piece for The New Yorker, Ringwald wrote, "I made three movies with John Hughes; when they were released, they made enough of a cultural impact to land me on the cover of Time magazine." She explained that Hughes planned to film "The Breakfast Club" in Chicago and to use local actors. And according to Ringwald, the director came across her headshot "and decided to write another movie around the character he imagined that girl to be. That script became 'Sixteen Candles.'" She and Hughes worked well together, so he wrote "Pretty in Pink" for Ringwald to be the lead.
By the early '90s, Ringwald felt limited in Hollywood, despite turning down the lead roles in "Pretty Woman" and "Ghost," the Los Angeles Times reported. So, she relocated to Paris. She lived in France, got married, and acted in French films. But by the new millennium, she divorced her first husband and moved back to the U.S. to live in Manhattan. There, she became a Broadway star, appearing in "Cabaret." Ringwald returned to film and found success in her career on TV. She appeared in long-running roles in "The Secret Life of the American Teenager" and "Riverdale," according to IMDb.
A celebrity convinced Johnny Depp to start acting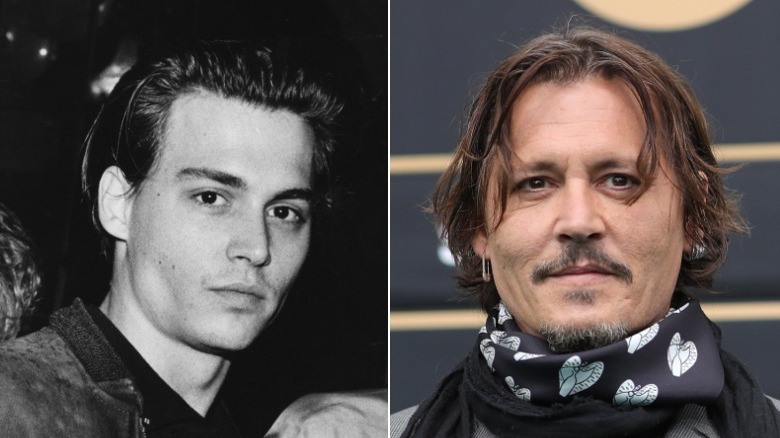 In the early '80s, Nicolas Cage rented out his Hollywood apartment to a young Johnny Depp. At the time, Depp wanted to become a musician and was working odd jobs to make a living. Then, one day, Cage and Depp were playing Monopoly together. As Cage explained to The New York Times, he asked Depp, "Why don't you just try acting?" Despite the aspiring musician saying he couldn't act, Cage believed otherwise and connected Depp with his agent. "She sent him out on his first audition, which was 'A Nightmare on Elm Street.' He got the part that day," Cage explained. 
Depp appeared in small roles for a few years but became famous as an undercover cop in the TV series "21 Jump Street," via IMDb. The role turned Depp into "a reluctant 1980s teen idol," per Entertainment Weekly. But it also helped jumpstart his movie career. In addition to indie favorites like "Fear and Loathing in Las Vegas," Depp became best known for his role as Jack Sparrow in the "Pirates of the Caribbean" series. It turns out, the actor based his character on Keith Richards, the guitarist for the Rolling Stones. Depp explained to the Independent that he felt pirates imitated a "rock'n'roll star's life."
Outside of acting, Depp dated many famous women through the years, including fellow '80s stars Jennifer Grey and Winona Ryder. And commercially, he became the face of the Dior Sauvage perfume, per BoF.
Corey Feldman struggled as a child actor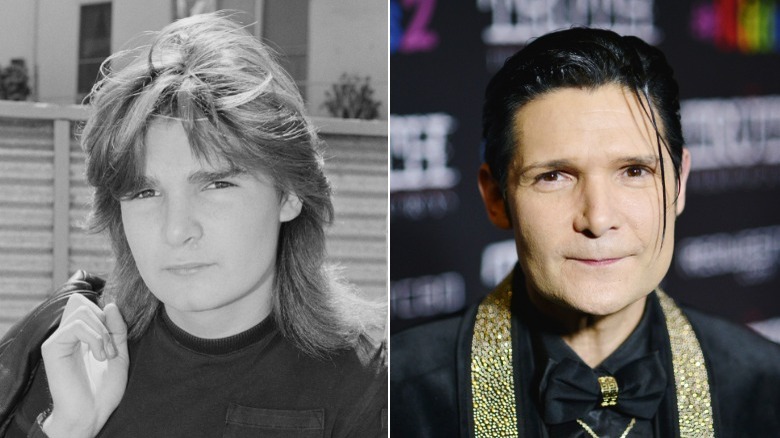 When he was only three years old, Corey Feldman made his acting debut in a 1976 McDonald's commercial. The ad, which shows the young boy gifting a 50 cent McDonald's coupon to Santa Claus, "ended up running for eight years," Billboard reported. This started Feldman's career as a child actor and he started to appear in TV shows like "Cheers." But his first iconic role came in the movie "The Goonies" in 1985. As a young actor, he had starring roles in "Stand by Me" and "The Lost Boys." 
Outside of filming, Feldman started to experiment with drugs. The Phoenix New Times reported that the child actor's "drug dabbling began with a little curious pot smoking at the age of 13 with River Phoenix on the set of 'Stand by Me' and ended when a rather voracious appetite for both cocaine and heroin landed him first in jail, and then in rehab." As a result, Feldman claimed he ran into financial struggle, which further set him back. "If I had known the damage that it would do to my career, then I probably wouldn't have made those choices," he confessed.
Feldman tried to make it as a musician — the lead singer for Corey Feldman's Truth Movement. And he released solo albums, like "Former Child Actor," in 2002, CNN reported. Feldman continued to act but despite many career do-overs, he never regained the fame from the '80s.
If you or anyone you know is struggling with addiction issues, help is available. Visit the Substance Abuse and Mental Health Services Administration website or contact SAMHSA's National Helpline at 1-800-662-HELP (4357).
Madonna never stopped singing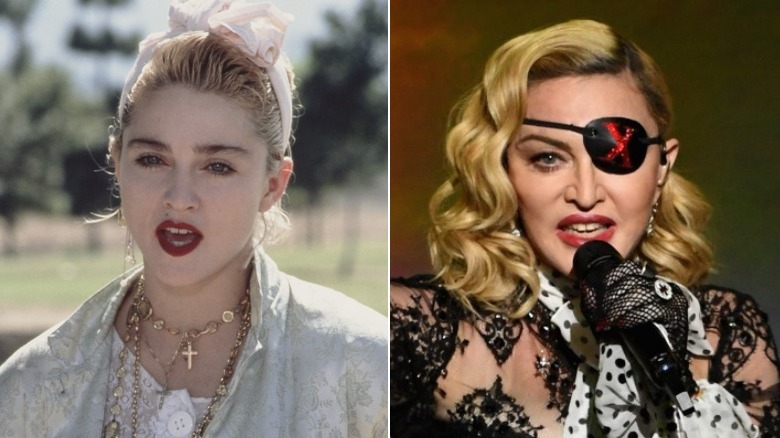 Before Madonna became a solo artist, she was part of the band Breakfast Club. The group was based in New York and played various local clubs, the Chicago Tribune reported. Around this time, she dated musician Steve Bray. The pair "collaborated on songs" but ultimately Madonna hired a producer Reggie Lucas to develop her eponymous debut album in 1983. Bray felt hurt from her decision and claimed he didn't speak with Madonna for six months. But then Madonna reached out to Bray to help with her follow-up album "Like a Virgin." And he also worked on her third album "True Blue."
After the release of her debut, Time said of Madonna, "She is 24 and has been hot in the music business for all of six months." The article added that the album "sold 2.8 million copies in the U.S. and her second, 'Like a Virgin,' had done about twice that much." The singer also was gaining fans on the road, with a successful tour in the U.S.
In 2019, Madonna released her 14th album called "Madame X." The album landed at number one on the Billboard 200 chart, making it the singer's ninth number one album, per MTV. She went on tour in support of the record but faced a number of setbacks. Several shows were canceled when she injured herself and due to restrictions from COVID-19. In 2021, Madonna released a documentary following her on the "Madame X" tour on Paramount Plus.
Kiefer Sutherland went from a punk to a president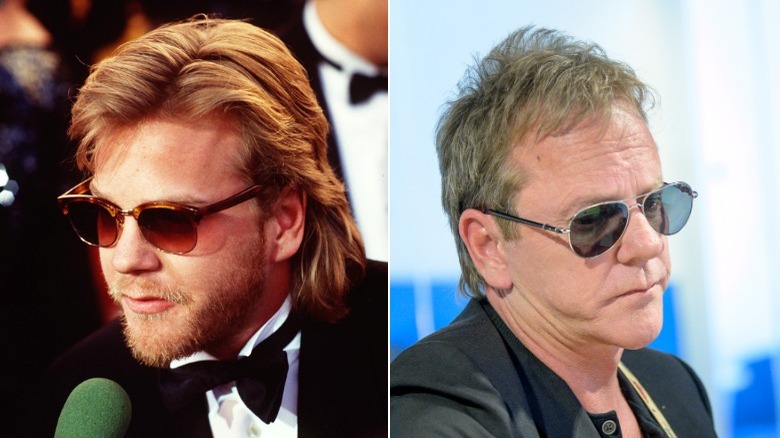 The '80s movies "Stand by Me" and "The Lost Boys" made young Corey Feldman a star. But the films also featured Kiefer Sutherland as the older, bad boy type character. In an interview for The Guardian, Sutherland remembered that his "Stand by Me" role "was the only audition where I did the reading and was hired right there in the room." Sutherland then explained that he and the director both agreed that his character, Ace, needed to be the film's villain. "He was a bully and the only way to make the character work was if you hated him," Sutherland said. In another intriguing story, the actor also recalled a time on set that the late River Phoenix asked Sutherland to teach him how to play the guitar.
Later in his career, Sutherland transitioned into politically oriented action roles. He starred as agent Jack Bauer in the long-running series "24," following that up with a role as the U.S. president in "Designated Survivor." In 2021, Sutherland signed on to play a "private espionage operative" in a series for Paramount Plus, Entertainment Weekly reported. But looking back at the start of his career, Sutherland said the '80s were perhaps his favorite time. "There was maybe a three-year period where I felt like the luckiest person on the planet," Sutherland told The Guardian about his films, even when he was playing a villain. "I was cruising through and having a blast. There's never felt like another time like that," he confessed.
Eddie Murphy kept making fans laugh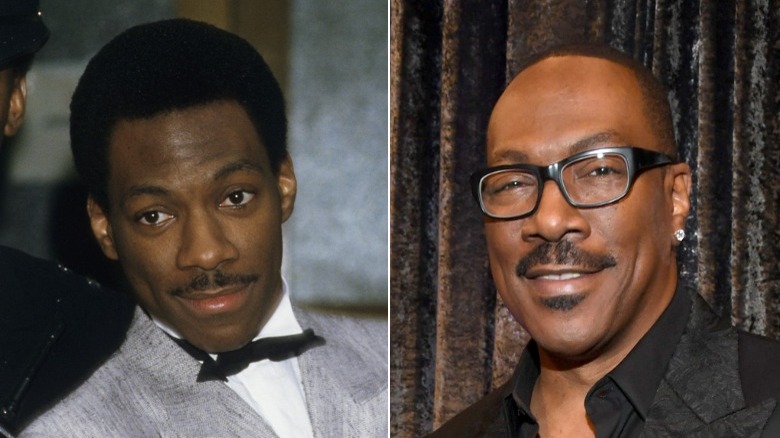 When Eddie Murphy joined "Saturday Night Live" in the early '80s, he was only 19 years old, which made him the second-youngest cast member of the series, according to NBC. During his four years with the sketch comedy show, "Murphy was a breakout star among the cast, playing such iconic characters as Buckwheat, Gumby, Mr. Robinson and doing celebrity impressions of Stevie Wonder, James Brown and Bill Cosby." 
Murphy decided to leave the show in 1984 but returned as a host that same year. Outside of TV, Murphy became a movie star. After his role in "Trading Places" with fellow "SNL" alum Dan Aykroyd, Murphy starred in "Beverly Hills Cop." The film was a massive success and became the third-highest-grossing comedy movie ever, Business Insider reported. And outside of filming, Murphy entertained fans as a stand-up comedian. "In two specials, 'Delirious' and 'Raw,' performed, famously, in leather suits, he became the most influential stand-up of his generation," The New York Times reported.
In addition to popular films like "The Nutty Professor" series and "Coming to America," Murphy excelled as a voice actor in "Mulan" and "Shrek." But he also starred in critical flops, like "Norbit." And the film, which scored a 9% rating with critics per Rotten Tomatoes, came directly after "his Oscar-nominated performance in 'Dreamgirls.'" Murphy stuck with acting and in 2021, joined Jonah Hill in a Netflix comedy (via The Hollywood Reporter).
Harrison Ford went from an unknown to a super star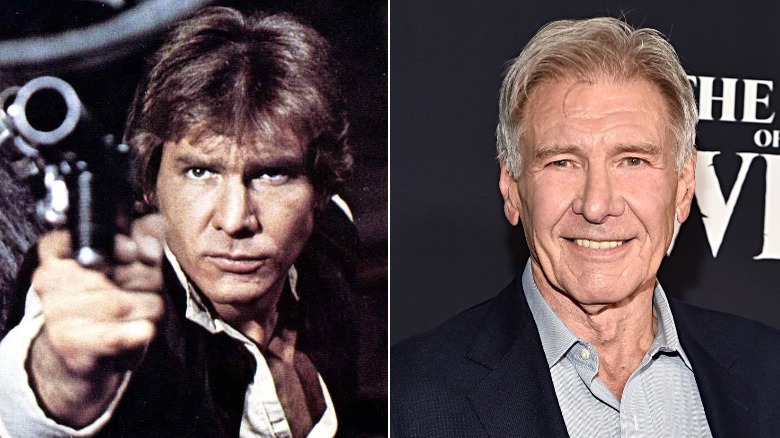 Harrison Ford first started out as a carpenter to make money. Sergio Mendes, a Brazilian musician, posted a photo on his Facebook page of a young Ford working on a recording studio for him in 1970. Ford later landed an acting gig in George Lucas' film "American Graffiti" but returned back to carpentry after. Then, Ford and Lucas were reunited again thanks to producer Fred Roos (via Mashable). And this helped Ford land the role of Han Solo for the original "Star Wars" movie. Ford reprised the role for the 1980 sequel "The Empire Strikes Back." This put Ford's career into overdrive and he became even more famous uniting with Steven Spielberg and Lucas for the first three "Indiana Jones" movies. His turn as the adventurous, "globetrotting archaeologist" was his best career role, according to Vulture. And Ford continued acting for decades, with roles both in and out of the sci-fi genre.
In 2021, Ford hurt his shoulder while filming "Indiana Jones 5." As reported by Deadline, Ford, who was 78 at the time, injured himself while practicing a fight scene. And this wasn't the first time Ford threw his body around for a movie. While filming "Star Wars: The Force Awakens" in June 2014, "Ford suffered a serious injury when his leg was broken by a hydraulic door in a freak accident on the set of the Millennium Falcon spaceship."
Ally Sheedy's spotlight started to dim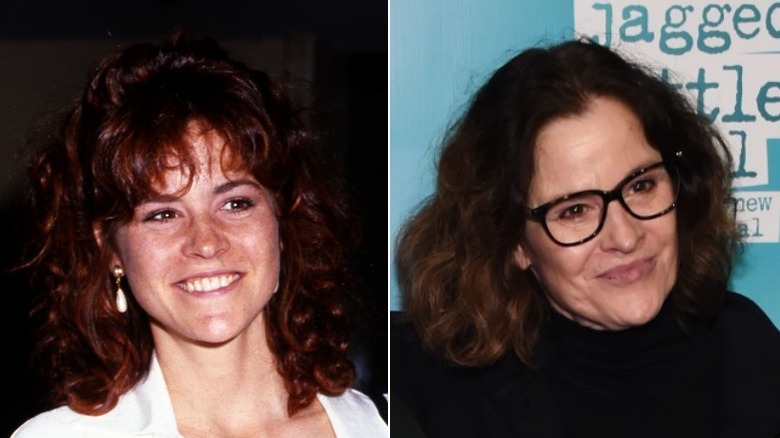 Ally Sheedy's first big film role was alongside Matthew Broderick in "WarGames." And the film featured a premise that many people didn't know about, hacking and computer coding. The movie was also influential to future computer wizards, like Google's co-founder Sergey Brin. "It was a key movie of a generation, especially for those of us who got into computing," he told Wired. Sheedy then starred in "The Breakfast Club," and "St. Elmo's Fire," alongside other famous teen actors from the "Brat Pack." But the original New York Magazine article that created the term "Brat Pack" didn't mention Sheedy at all. Looking back at the omission, Sheedy told the Independent, "The ladies weren't there!" She said the article incorrectly assumed the "Brat Pack" only hit the town as a group. "We weren't young actors running around town spending all our time together," she explained. And according to Sheedy, she felt the association "was a little gossipy and undermining."
Sheedy had trouble separating from the "Brat Pack" association and also struggled as a female actor in Hollywood. For example, despite starring in the film "Short Circuit," Sheedy claimed filmmakers "refused to give her a bigger salary" to reprise her role in the 1988 sequel. This disparity continued and Sheedy explained, "as time went on, the white men's club in Hollywood became more and more uncomfortable." Sheedy continued to act and appeared in various smaller roles like in the 2016 film "X-Men: Apocalypse," per IMDb.
Tom Cruise got bigger and bigger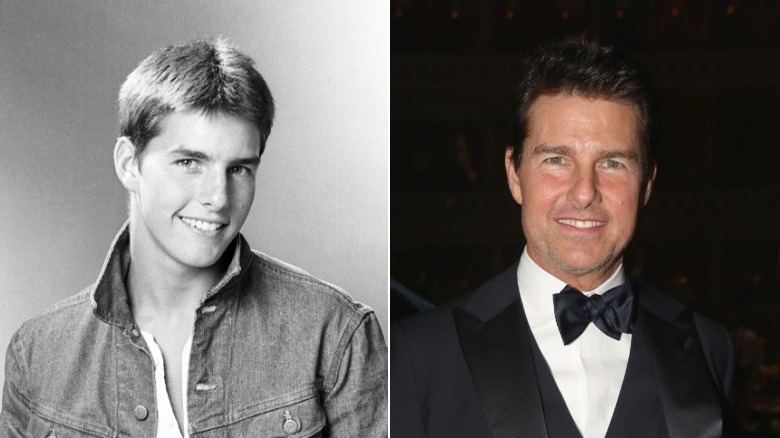 After graduating from high school in New Jersey, Tom Cruise moved to New York City to pursue acting. "Cruise only spent five months in New York City — busing tables at a restaurant while auditioning for acting jobs in his spare time — before he landed a small role in the 1981 movie 'Endless Love,' the coming-of-age drama starring Brooke Shields," CNBC reported. He starred in a few other movies before becoming the leading man in "Risky Business." The 1983 film "became Cruise's first box-office hit," per CNBC. 
But this was just the beginning for Cruise, who had an impressive run in the '80s with hits like "Rain Man." And his most popular role was as Maverick in the high-flying film "Top Gun." The film was a smash hit and turned Cruise into a superstar. Throughout his long-running career, Cruise was nominated thrice for an Oscar. According to the actor's website, his "films have earned over $10 billion in worldwide box office," including "a record 23 [that] have made more than $200 million globally."
Part of this success was Cruise's transition into an action star, starring in movies like the "Mission: Impossible" franchise. The actor is a known adrenaline junkie, often doing his own film stunts, and even as he ages, his stunts seem to become more and more spectacular. Insider recapped some of Cruise's wildest stunts throughout the years, like hanging off the side of an airplane.
Michael J. Fox turned into a philanthropist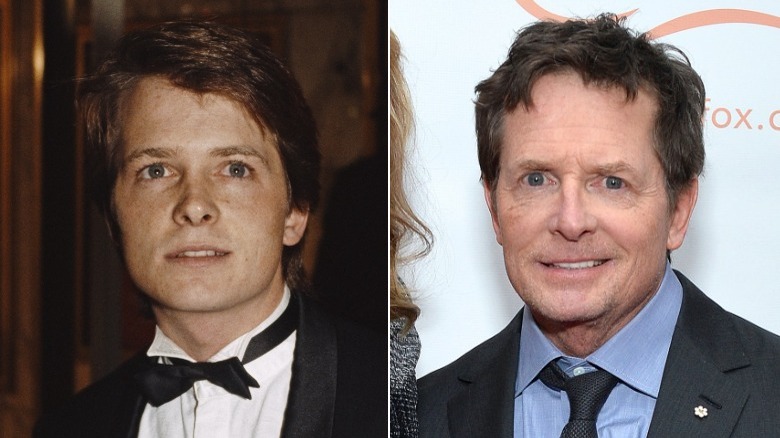 A young Canadian actor Michael J. Fox scored his first big hit on the TV series "Family Ties." He played Alex P. Keaton during the show's seven-season run from 1982 to 1989, per IMDb. During that time, Fox landed the role of high school student Marty McFly in the time-traveling film "Back to the Future." It was the highest-grossing movie of 1985, according to the film's official website. 
Interestingly enough, according to USA Today, the script "was rejected 40 times before Universal bought it." Plus, the first six weeks of filming featured actor Eric Stoltz as the lead part. But he "was fired for being too dark and brooding in what was supposed to be a more comedic role." Instead, Fox perfected the character and reprised the role for "Back to the Future Part II" in 1989, and the third installment one year later. In 2021, Fox posted a reunion photo on Instagram with his co-star from the films, Christopher Lloyd.
In 1991, coming off the success of the trilogy, Fox was diagnosed with Parkinson's Disease. He was 29 at the time. Fox continued to act in films and he also found success again in the TV series "Spin City." Fox publicly revealed his condition in 1998, and by 2000, he created the Michael J. Fox Foundation for Parkinson's Research. But Fox continued to act while still supporting his non-profit organization. In 2020, Fox released his fourth book, a memoir.
Bill Murray stayed as quirky as ever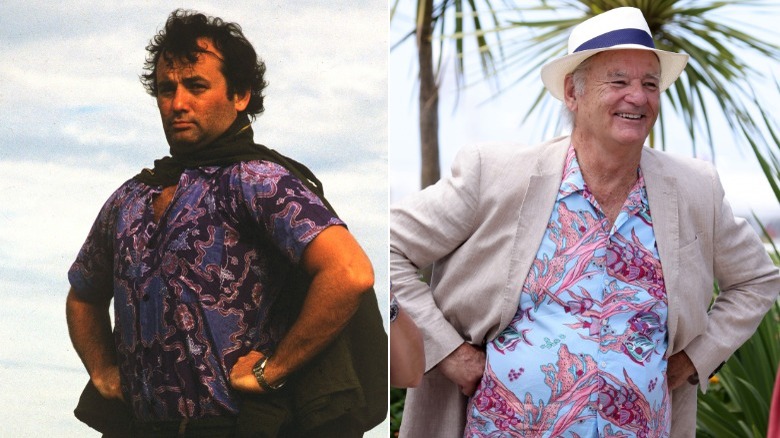 Bill Murray's multiple-season run as a cast member for "Saturday Night Live" in the late '70s helped the comedian become a star. What started with "Caddyshack" in 1980 turned into an impressive box office run for Murray through the decade. This included starring roles in the military comedy "Stripes" and then "Ghostbusters" in 1984. Towards the end of the decade, Murray played the title character in the Christmas classic "Scrooged," and he closed out the '80s with the sequel "Ghostbusters 2."
Murray continued to act and his movie career became a thing of legends in part for his unique personality around Hollywood. For example, he didn't have a talent agent. To propose an idea for a project, people had to track down a 1-800 number, which "does not even have his voice on the recording," and leave a message, Vanity Fair reported. His personal life is just as strange, with Murray known to appear "randomly at ice-cream socials, minor-league baseball turnstiles, and engagement-photo shoots." 
Nevertheless, he continued to act for his entire career, turning into a quirky grandfather type. After some hesitation, Murray signed on to the franchise reboot "Ghostbusters: Afterlife" in 2021, Screen Rant reported. And the actor, who famously loves to golf, played himself in the YouTube series, "The Links Life." Cameras followed Murray around "some of Ireland's best golf courses," via GolfWeek.
One decision affected Jennifer Grey's career path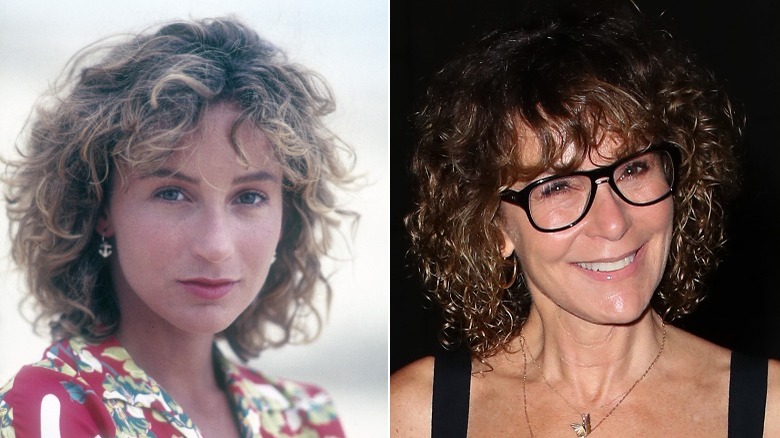 In the film "Ferris Bueller's Day Off," Jennifer Grey acted alongside Matthew Broderick as the main character's sister. After the success of the film, she and Broderick took a vacation in Ireland. As reported by People, Broderick was driving with Grey when the actors had a head-on collision with another car. Tragically, the mother and daughter in the other car both died from the accident. Grey was unharmed but "Broderick was rushed to the same hospital with face cuts and a badly broken right leg." The tragic accident happened "weeks before starting the publicity rounds" for "Dirty Dancing."
The film went on to be a box office success thanks to the delightful chemistry between Grey and the late Patrick Swayze. Though later, both actors had mixed stories of what it was like to film together. "Dirty Dancing" also featured the incredibly catchy song "(I've Had) The Time of My Life" by Bill Medley and Jennifer Warnes. The song landed at number one on the Billboard Hot 100 chart and even won a Grammy and an Oscar for Best Original Song, Billboard reported. Grey continued to act but "after rhinoplasty surgeries in the early '90s changed her look, she says casting directors stopped calling," People reported. The actor remembered, "I went in the operating room a celebrity and came out anonymous."
In 2020, Deadline reported that Grey signed on to reprise her role as Baby in a "Dirty Dancing" sequel.
Tom Hanks became an acting icon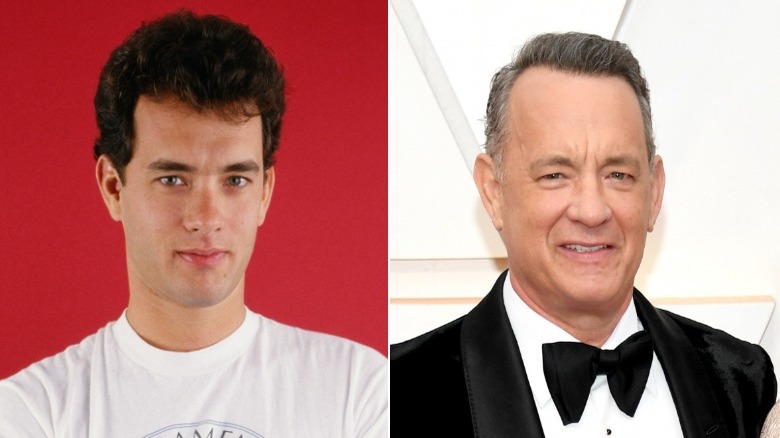 According to his IMDb page, Tom Hanks' first credited acting role was in the 1980 horror film "He Knows You're Alone," but he first became well-known for his TV acting. He co-starred in the ABC series "Bosom Buddies" about two guys living in a women's only apartment complex. The show "flopped with critics and viewers, flaming out after two seasons," the Los Angeles Times reported. 
However, this helped propel Hanks' career, and after several roles in the mid-'80s, Hanks landed one of his most memorable roles in the movie "Big." Surprisingly, Harrison Ford was the first choice to be the star, while Steven Spielberg originally planned to direct the film, which was co-written by his sister Anne. After Ford and Steven dropped out of the project, new director Penny Marshall offered the lead role to Hanks. The actor turned down the role, which then went to Robert De Niro. But he too dropped out over salary concerns so "Big" went back to Hanks. His co-star Elizabeth Perkins remembered that she and Hanks thought while filming "this is going straight to video," via the New York Post. Instead, "Big" was a huge success and earned Hanks an Oscar nomination.
Tom Hanks eventually became one of the most beloved figures in Hollywood with an impressive career in film. Later films like "Saving Private Ryan," "Forrest Gump," and "Toy Story" gave the actor room to showcase his wide range of talents, per Vulture.
Source: Read Full Article